May 09, 2022 (MLN):  Riding on a slippery slope, the Pakistani rupee (PKR) has further depreciated by 90 paisa against the US dollar in today's interbank session as the currency closed the trade at PKR 187.53 compared to the previous session's closing of PKR 186.63 per USD.
The rupee endured a volatile trading session with quotes being recorded in a range of 1.35 rupees per USD showing an intraday high bid of 187.94 and an intraday low offer of 186.90.
The local unit is under the pressure of weak macros as the country's trade deficit soared by 64.79% to stand at $39.36 billion in 10MFY22, mainly due to an exponential growth in imports. While foreign exchange reserves continued to decline, clocking in at $16.55bn after a $115mn WoW decline.
According to Asad Rizvi, the former Treasury Head at Chase Manhattan, "Widening of trade deficit to $39.26bn in 10MFY22 is caused by record-high imports that have surged to $65.49bn versus $44.73bn is not good news because oil prices are not easing."
While drying up of remittances this week could delay PKR recovery, he added.
From July'21 to date, the local unit has lost Rs29.98 against the USD. Similarly, the rupee fell by Rs11.03 in CYTD, with the month-to-date (MTD) position showing a drop of 0.98%, as per data compiled by Mettis Global.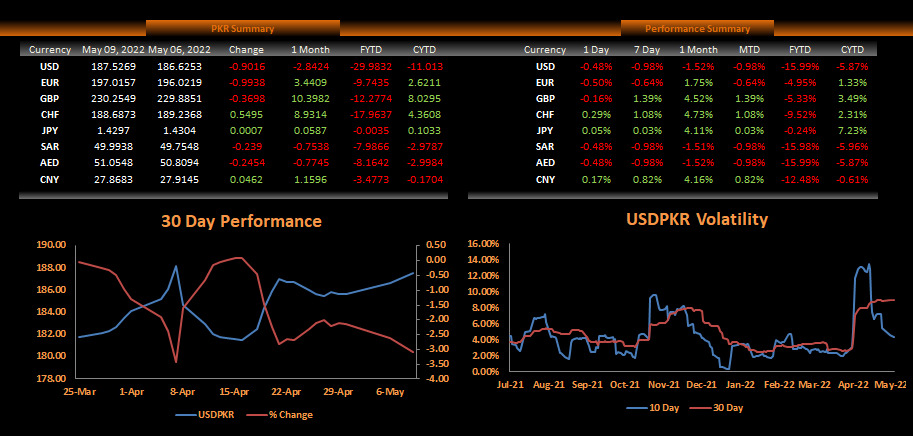 In addition, the performance of PKR remained satisfactory against the major currencies during the calendar year to date as it strengthened by 7.23%, 3.49%, 2.31%, and 1.33% against JPY, GBP, CHF, and EUR respectively. On the other hand, the domestic currency weakened by 5.96%, 5.87%, and 0.61% against SAR, AED, and CNY respectively.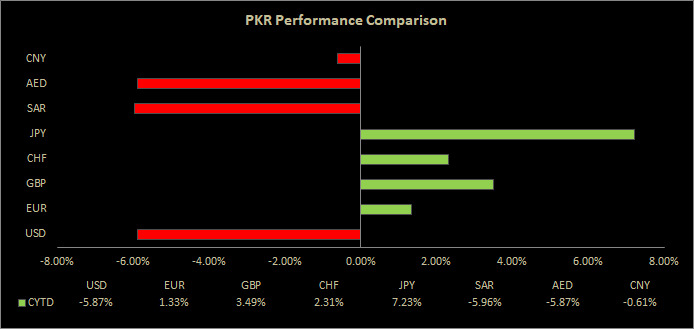 During the last 52 weeks, PKR lost 18.63% against the greenback, reached its lowest at 187.53 today, and touched its high of 152.59 on May 17, 2021.
Furthermore, the local unit has weakened by 5.94% since its high on May 17, 2021, against EUR.  While, it has dropped by 6.55% against GBP since its high on May 17, 2021.

Within the open market, PKR was traded at 187.50/188.50 per USD.
Meanwhile, the currency lost 37 paisa to the Pound Sterling as the day's closing quote stood at PKR 230.25 per GBP, while the previous session closed at PKR 229.89 per GBP.
Similarly, PKR's value weakened by 99 paisa against EUR which closed at PKR 197.02 at the interbank today.
The overnight repo rate towards the close of the session was 12.75/13.00 percent, whereas the 1-week rate was 12.55/12.65 percent.
Copyright Mettis Link News
Posted on: 2022-05-09T17:01:29+05:00
32569