January 26, 2022 (MLN): Pakistani rupee (PKR) lost further ground in the interbank session on Wednesday as the currency closed the day's trade at PKR 176.98 per US dollar, depreciating by 26 paisa.
The rupee traded within a very narrow range of 35 paisa per USD showing an intraday high bid of 177 and an intraday low offer of 176.75.
According to Asad Rizvi, the former Treasury Head at Chase Manhattan, "Market feared that how SBP will react to inflationary pressure, but it has succeeded to maintain the balance."
After MPS T-Bills yields rallied and gained 50 bps. It is too early to tell if the rally will be sustainable or not while, PKR is struggling to recover, he added.
It is pertinent to mention that 30-days rupee-dollar parity is less volatile as the local unit is less responsive to economic events. However, it seems that the stabilizing mode of PKR is fading away as the currency fell by 74 paisa during the three consecutive sessions.
From July'21 to date, the local unit has lost Rs19.43 against the USD. Similarly, the rupee lost its ground by 46 paisa in CY22, with the month-to-date (MTD) position showing a drop of 0.26%, as per data compiled by Mettis Global.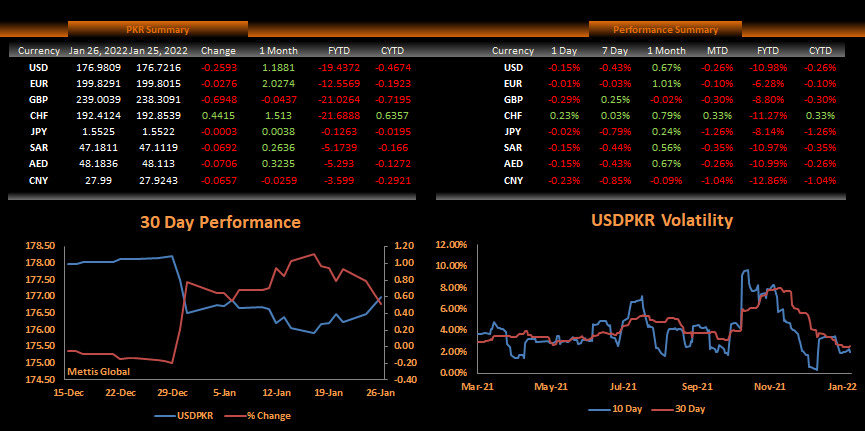 The performance of the local unit remained bleak during one month as the currency depreciated by 1.26%, 1.04%, 0.35%, 0.30%, and 0.26% against JPY, CNY, SAR, GBP and USD, respectively. However, PKR performed comparatively better against CHF by 0.33% during the month.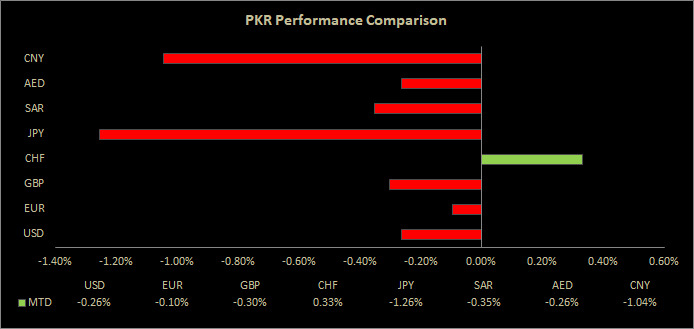 As per the Exchange Companies Association of Pakistan (ECAP), PKR stayed flat for buying and selling over the day closed at 178.50 and 179.50 respectively in the open market.
Meanwhile, the currency lost 69 paisa to the Pound Sterling as the day's closing quote stood at PKR 239 per GBP, while the previous session closed at PKR 238.31 per GBP.
Similarly, PKR's value weakened by 3 paisa against EUR which closed at PKR 199.83 at the interbank today.
On another note, within the money market, the overnight repo rate towards the close of the session was 9.85/10.00 percent, whereas the 1-week rate was 9.85/9.95 percent.
Copyright Mettis Link News
Posted on: 2022-01-26T16:13:41+05:00
30422