January 25, 2022 (MLN): Pakistani rupee (PKR) continued its downward journey on the second consecutive session against the US dollar as the currency settled the trade at PKR 176.72, depreciating by 23 paisa in today's interbank session.
In the previous session, the local unit had closed at PKR 176.49 per USD after losing 25 paisa.
The rupee endured a relatively dull trading session with very little intraday movement, trading in a range of 10 paisa per USD showing an intraday high bid of 176.70 and an intraday low offer of 176.45.
The MPC in its yesterday's meeting kept the policy rate unchanged at 9.75% as SBP is very comfortable with the fiscal and monetary policy mix & thinks it is helping to ease inflationary pressure, Asad Rizvi, the former Treasury Head at Chase Manhattan noted.
The status quo decision of MPC will likely deteriorate the current account balance which would eventually put more pressure on PKR.
However, PKR performed slightly better during one month as the currency improved by 1.07%, 0.80%, 0.79%, 0.69%, and 0.60% against EUR, AED, USD, SAR, and CHF, respectively.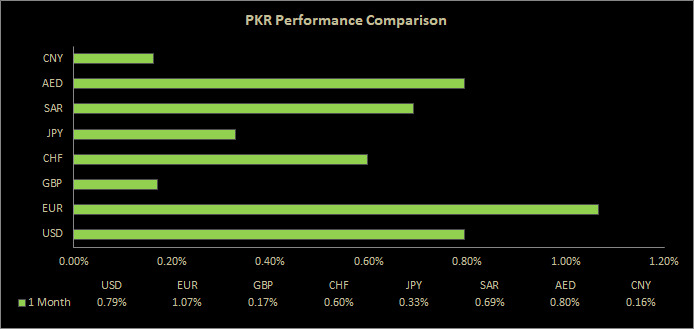 It is pertinent to mention that 30-days rupee-dollar parity is less volatile as the local unit is less responsive to economic events. Plus, the capped dollar demand on the eve of the new year played a significant role in the PKR stabilization.
To note, CY2021 proved to be particularly volatile as the rupee closed to a historic low of 178.23 against the US dollar on December 29, 2021.
From July'21 to date, the local unit has lost Rs19.17 against the USD. Similarly, the rupee lost its ground by 20 paisa in CY22, with the month-to-date (MTD) position showing a drop of 0.12%, as per data compiled by Mettis Global.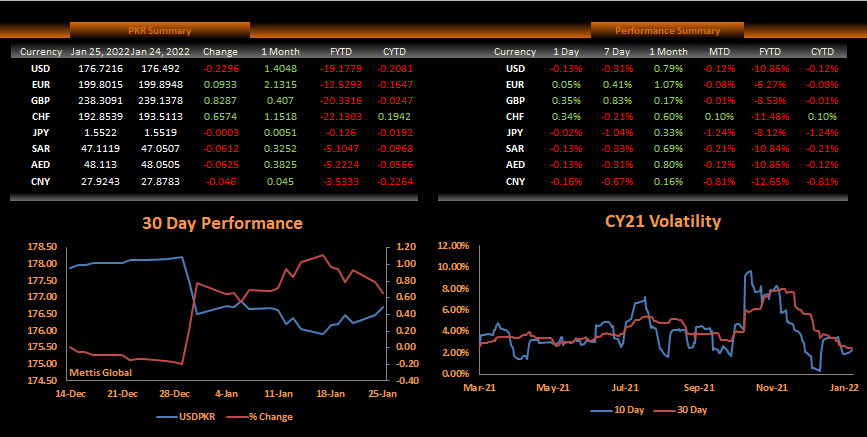 Alternatively, the currency gained 83 paisa against the Pound Sterling as the day's closing quote stood at PKR 238.31 per GBP, while the previous session closed at PKR 239.14 per GBP.
Similarly, PKR's value strengthened by 9 paisa against EUR which closed at PKR 199.8 at the interbank today.
On another note, within the money market, the State Bank of Pakistan (SBP) conducted an Open Market Operation (OMO) in which it injected Rs250 billion into the market for 3 days at 9.85 percent.
The overnight repo rate towards the close of the session was 9.70/9.90 percent, whereas the 1-week rate was 9.85/9.95 percent.
Copyright Mettis Link News
Posted on: 2022-01-25T16:00:03+05:00
30397