August 3, 2022 (MLN): The Pakistani rupee has appreciated by 1.38 rupees against the US dollar in early trade on Wednesday when compared to the previous close of 238.38 per USD, as the statement by Esther Perez Ruiz, International Monetary Fund (IMF)'s Resident Representative for Pakistan, strengthened traders' sentiment.
The rupee was quoted at 237.74/238.24 with trades being reported at 237 per USD.
In a message to a news agency, she said that the country has met its last prior action of the IMF for the combined 7th and 8th review after increasing the petroleum development levy (PDL).
To note, on July 13, 2022, the IMF team, led by Nathan Porter reached a staff-level agreement (SLA) with the Pakistan authorities for the conclusion of the combined seventh and eighth reviews of the Extended Fund Facility (EFF)-supported program. The country will receive $1.177 billion after the approval of IMF's Executive Board, bringing total disbursements under the program to about $4.2bn.
The rupee has recovered for a third consecutive session after weeks of persistent declines in its value which has been largely attributed to the ease in import payments.
According to the latest data issued by the Pakistan Bureau of Statistics, Pakistan's merchandise trade deficit for the month of July 2022 clocked in at $2.64 billion compared to a deficit of $4.96bn in the preceding month, narrowed by 46.77% MoM, that also helped reduce pressure on the struggling rupee.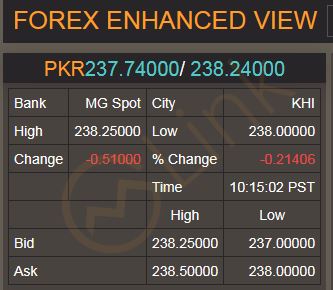 Posted on:2022-08-03T10:16:07+05:00
34416