August 16, 2022 (MLN): Continuing its upward journey, the Pakistani rupee (PKR) managed to gain 8 paisa against the US dollar in today's interbank session as the currency settled the trade at PKR 213.9 compared to yesterday's close of 213.98 per USD.
Throughout the session, the rupee traded within a range of 1.51 rupees per USD showing an intraday high bid of 213.75 and an intraday low offer of 213.15 while in the open market, PKR was traded at 208/212 per USD.
Owing to the positivity stemmed in the interbank market amidst improving macros and clarity on the economic front, the local unit has recovered by almost 12 % within August 2022 after witnessing a freefall in the preceding month.
Speaking to Mettis Global, Malik Boston, President of Forex Association of Pakistan said that the austerity measures taken by the government helped the rupee to appreciate against the dollar.
If stability remains intact on the political front, the US dollar will go below PKR 180 and will sustain for months, he added.
In FYTD, PKR lost 9.05 rupees or 4.23%, while it plummeted by 37.38 rupees or 17.48% against the USD in CYTD, as per data compiled by Mettis Global.
During the last 52 weeks, PKR lost 23.29% against the greenback while reaching its lowest at 239.94 on July 28, 2022, and the highest of 164.08 on August 17, 2021.
Furthermore, the local unit has weakened by 11.77% and 13.25% against EUR and GBP, respectively, since the high on August 20, 2021.
In addition to it, the domestic unit has weakened against JPY, CHF, GBP, EUR, AED, SAR, and CNY by 5.06%, 4.73%, 3.15%, 2.61%, 1.38%, 1.37%, and 1%, within a month.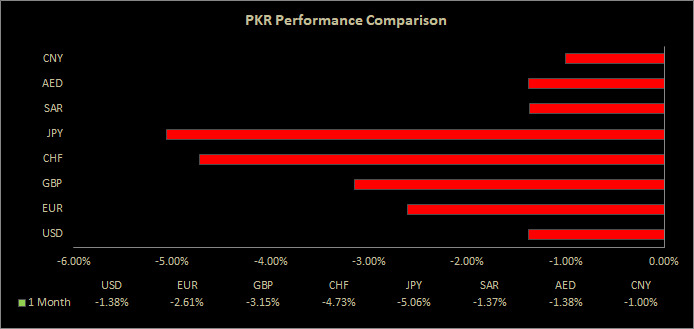 Meanwhile, the currency gained 1.2 rupees against the Pound Sterling as the day's closing quote stood at PKR 257.77 per GBP, while the previous session closed at PKR 259 per GBP.
Similarly, PKR's value strengthened by 1.7 rupees against EUR which closed at PKR 217.25 at the interbank today.
On another note, within the money market, the overnight repo rate towards the close of the session was 15.50/15.80%, whereas the 1-week rate was 14.95/15.05%.
Copyright Mettis Link News
Posted on:2022-08-16T16:33:04+05:00
34614