June 26, 2022 (MLN): This week, the index plunged by 1,089 points as the government announced a 10% super tax on 13 major sectors as well as a 4% additional levy on banks, which caused panic among the investors, leading the benchmark KSE-100 to close at 41,052 points level.
The market commenced the week on a negative note on uncertainty over the IMF Program. However, the sentiments turned positive when a Chinese consortium of banks signed a USD2.3bn loan facility agreement, and the ECC approved the second instalment of Rs96bn to the IPPs of the 2002 power policy.
Furthermore, the finance minister announced that an IMF deal is imminent which also helped boost investor sentiment.
However, during the last trading session, the announcement of a 10% super tax on large-scale units caused the market to spiral and hit an intra-day low of 40,555 points, a note by Arif Habib Securities said.
In terms of USD, the index declined by 2% as the dismal macros coupled with a decline in SBP reserves by $748 million to $8.2 billion put pressure on the PKR, which dipped to an all-time low of 211.93/USD. Later on, the announcement of the China deal helped the PKR recover some lost ground and close at 207.48 for the week.
Overall, the bourse witnessed 2 sessions in favour of bull while 3 sessions were in favour of bear. The KSE-100 index oscillated between high and low of 42,983 and 40,555 levels, respectively, before settling the week at 41,052 levels.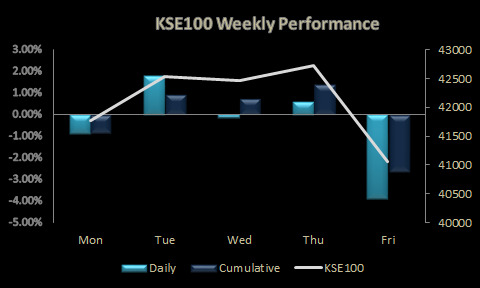 From the sector-specific lens, Banks, Cement, Oil & Gas Exploration companies, Fertilizer, and Textile sectors kept the index in red territory as they took away 296, 202, 194, 115, and 61 points from the index respectively.
Contrary to that, Insurance, Tobacco, Refinery, Paper & Board, and Leather & Tanneries during the week collectively added 41 points to the bourse.
Scrip-wise, UBL, POL, ENGRO, LUCK, and HUBC were the worst-performing stocks during the week as they snatched 97, 88, 83, 79, and 75 points from the index respectively. Whereas EFUG, KEL, KAPCO, PAKT, and PKGS collectively added 71 points to the index.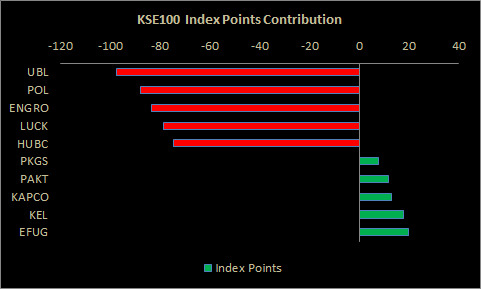 Meanwhile, the KSE All Share market cap decreased by Rs139.9 billion or 2% over the week, being recorded at Rs6.8 trillion as compared to a market cap of Rs7tr recorded last week.
Flow-wise, foreigners remained the net sellers during the week, offloading stocks worth $2.3mn compared to a net sell of $1.9mn last week. Sector-wise, the major selling was observed in All Other Sector ($3.5mn) and Banks ($1.9mn).
On the local side, the majority of the buying was reported by Individuals and Other Organizations amounting to $7mn and $3.4mn, respectively. However, Insurance Companies stood on the other side with net selling of $8.4mn.
Copyright Mettis Link News
Posted on: 2022-06-26T12:03:41+05:00
33712