June 24, 2022 (MLN): The government will impose an extra one-time 10% tax on the large-scale industry for one year to raise over 400 billion rupees ahead of a revival of the International Monetary Fund (IMF) bailout program, Finance Minister Miftah Ismail said on Friday.
In a tweet, Finance Minister said, "The super tax of 4% will be applicable to all sectors. But for the specified 13 sectors, another 6% will be added for a total of 10%. So, their tax rates will go from 29% to 39%."
 This is a one-time tax needed to curtail the previous four record budget deficits, he added.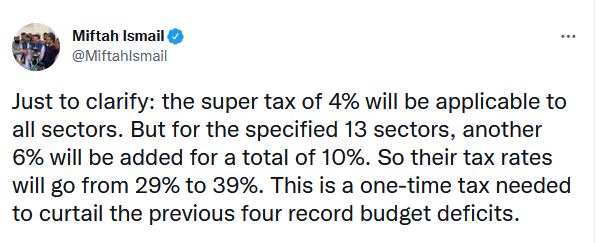 The announcement comes ahead when the country is hoping to reach an agreement to unlock a new tranche of IMF funds that are needed to avert a balance of payment crisis.
Stepping closer to reaching an IMF agreement, the coalition government has taken very difficult decisions.
"Let me share this good news that this country isn't heading toward a default anymore," the finance minister told parliament in his concluding budget speech that brought in the new taxes.
Muftah Ismail called it a super tax and urged the large-scale industry to bear it for only one year to increase the revenue required to reduce the fiscal deficit.
He said it will be levied on 13 big sectors, including sugar, steel, cement, oil and gas, fertilizer, cigarettes, chemical, automobiles, banks, textile, LNG terminals and beverages.
The minister said that after the implementation of the revised budget tax, the target for collection of revenue would be increased from Rs7 trillion to Rs.7.4tr
He said a one-time tax slab from 10% to 40% will also be introduced on individual earnings from Rs150 million to Rs400 million a year.
Copyright Mettis Link News
Posted on: 2022-06-24T14:43:07+05:00
33694