June 24, 2022 (MLN): State Bank of Pakistan (SBP) has received $2.3 billion loan from Chinese consortium, Finance Minister Miftah Ismail informed on Friday.
In his Tweet, he said, "I am pleased to announce that Chinese consortium loan of RMB 15 billion (roughly $2.3 billion) has been credited into SBP account today, increasing our foreign exchange reserves"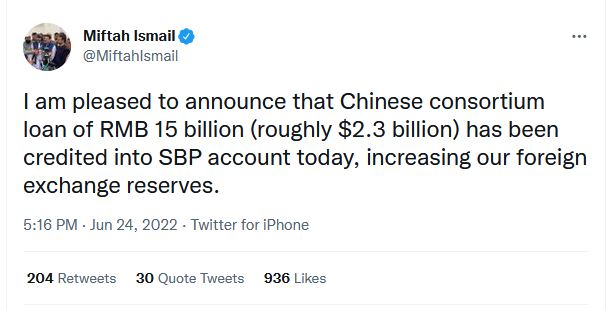 On Wednesday, Finance Minister announced that a Chinese consortium of banks and Pakistan had signed a $2.3 billion (15bn renminbi) loan facility agreement, with cash inflow expected within a "couple of days".
He also thanked the Chinese government for facilitating this transaction.
The inflow will surely give some respite to the depleting foreign exchange reserves and stabilize the deteriorating rupee-dollar parity.
Copyright Mettis Link News
Posted on: 2022-06-24T17:33:43+05:00
33703