July 06, 2022 (MLN): Owing to a volatile session on the back of prevailing economic uncertainty, the Pakistani rupee (PKR) lost earlier gains by 31 paisa per US dollar in the intraday trade in the interbank market, compared to the previous close of PKR 206.94 per USD. 
The rupee was quoted at 207.21/207.49 [10:40 PST] with the trades being reported at PKR 207.25 per USD.
Fahad Rauf, Head of Research at Ismail Iqbal Securities told Mettis Global, "The dollar is up in the international market. Hence, it is natural for PKR to depreciate."
The dollar stood multi-month high against other major peers as higher gas prices and political uncertainty renewed recession fears and sent investors scrambling to the safe-haven currency.
Other than that, on the domestic front, the domestic unit is enduring a seesaw pattern due to a lack of confidence in the market which strengthens the element of speculation.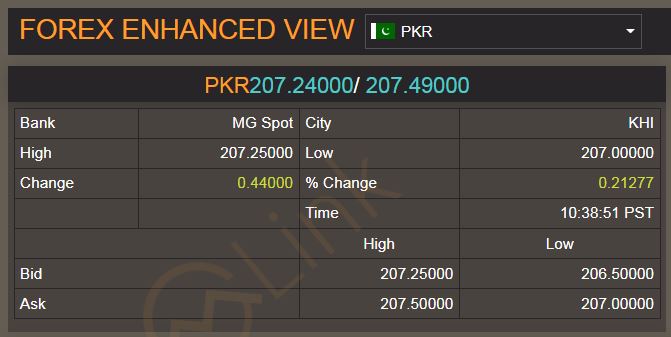 Copyright Mettis Link News
Posted on: 2022-07-06T10:41:22+05:00
33931