August 17, 2022 (MLN): Breaking its gaining streak, the Pakistani rupee (PKR) has depreciated by 98 paisa against the US dollar in today's interbank session as the currency settled the trade at PKR 214.88 per USD, against yesterday's closing of PKR 213.9 per USD.
Throughout the session, the rupee traded in a range of 1.5 rupees per USD showing an intraday high bid of 215 and an intraday low offer of 213.85 while in the open market, PKR was traded at 211/214 per USD.
After enjoying a successful run of appreciation, the local unit joined back its traditional course on the back of increasing demand for the dollar as the government has allowed the imports of most products that were banned earlier to improve the USDPKR parity.
Speaking to Mettis Global, Zafar Paracha, General Secretary of Exchange Company Association of Pakistan (ECAP) said that due to the increase in the USD rate in Afghanistan, the element of dollar smuggling has been activated once again which created unfair pressure on the local unit.
He requested the higher authorities and concerned departments to mitigate the element of smuggling and control the USD rate for stabilizing the economy.
"Otherwise, all the efforts that were made earlier to stabilize the economy will be destroyed," he warned.
Speaking to Mettis Global, Ahsan Mehanti told, "Dollar is oversold and continuous appreciation in rupee has impacted export orders."
In FYTD, PKR lost 10.03 rupees or 4.67%, while it plummeted by 38.37 rupees or 17.86% against the USD in CYTD, as per data compiled by Mettis Global.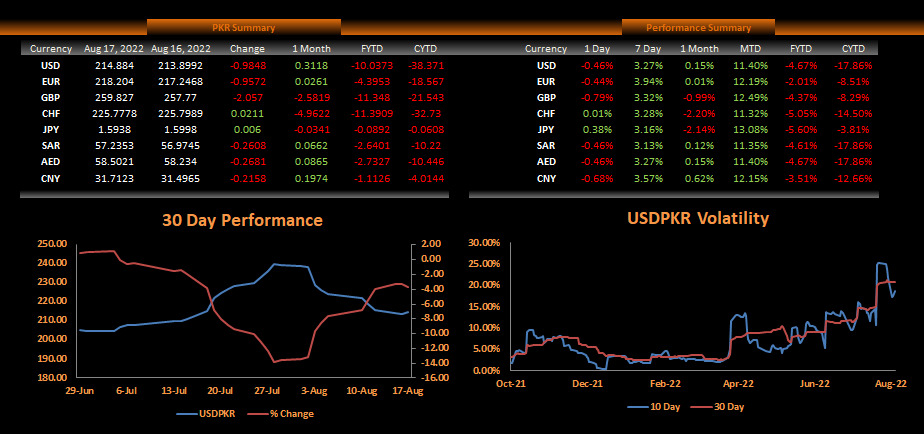 During the last 52 weeks, PKR lost 23.59% against the greenback while reaching its lowest at 239.94 on July 28, 2022, and the highest of 164.18 on August 20, 2021.
Furthermore, the local unit has weakened by 12.16% and 13.94% against EUR and GBP, respectively, since the high on August 20, 2021.

Meanwhile, the currency lost 2.1 rupees or 0.79% to the Pound Sterling as the day's closing quote stood at PKR 259.83 per GBP, while the previous session closed at PKR 257.77 per GBP. Similarly, PKR's value weakened by 96 paisa or 0.44 against EUR which closed at PKR 218.2 at the interbank today.
Furthermore, the domestic unit has depreciated against CNY, AED, and SAR by 0.68%, 0.46%, and 0.46%, respectively whereas it appreciated against JPY and CHF by 0.38% and 0.01%, respectively in today's session.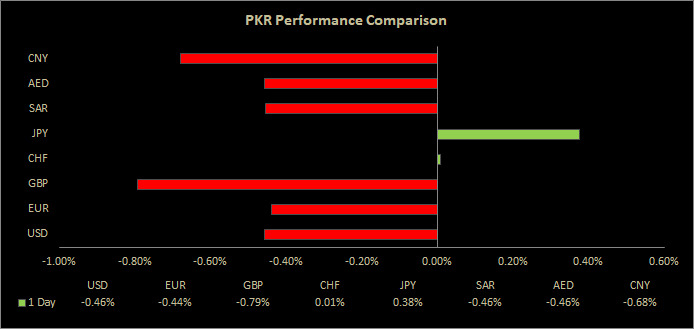 On another note, within the money market, the overnight repo rate towards the close of the session was 15.70/15.90%, whereas the 1-week rate was 14.95/15.05%.
Copyright Mettis Link News
Posted on:2022-08-17T16:31:09+05:00
34642