August 02, 2022 (MLN): Continuing its gaining spree against the greenback, the Pakistani rupee (PKR) has further gained 87 paisa at around 10:28 am on Tuesday compared to the previous close of 238.84 per USD. 
The local unit was quoted at PKR 238.03/238.53 with trades being reported at 238 per USD while in the open market, PKR is traded at 239/241 per USD. 
Experts are of the view that the recovery of PKR may be attributed to the ease in import payments. Meanwhile, Finance Minister Miftah Ismail in a joint statement with SBP said that the Rupee is expected to gradually strengthen as the current account deficit is expected to narrow going forward given the surge in the import bill is brought under control.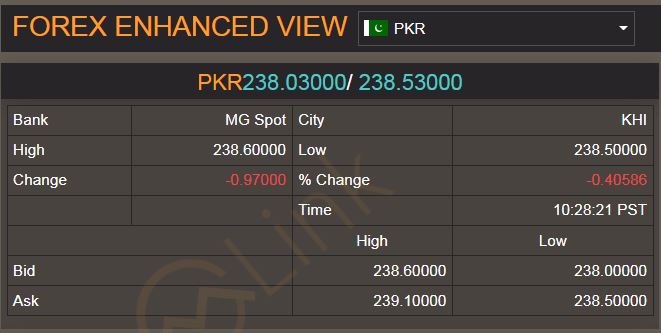 Copyright Mettis Link News
Posted on: 2022-08-02T10:30:31+05:00
34398