September 07, 2022 (MLN): On the back of rising dollar demand, the Pakistani rupee (PKR) has depreciated by two rupees against the US dollar in today's interbank session as the currency settled the trade at PKR 223.42 compared to the previous closing of PKR 221.42 per USD.
During the session, the rupee traded in a range of two rupees per USD showing an intraday high bid of 223.50 and an intraday low offer of 222.25 while in the open market, PKR was traded at 231/233 per USD.
Even after IMF's tranche, this unexpected downward journey of PKR is attributed to the increasing import of vegetables which has pushed the demand for dollars in the interbank market.
Meanwhile, the increasing gap between the interbank and open market rate reflects prevailing uncertainty.
According to the report by Business Recorder, "The pressure lately is building from the informal open market where high demand is coming from Peshawar. Some say that this is due to an increase in the informal trade of food items (mainly vegetables) from Afghanistan and Iran, and that is resulting in high demand for dollars to pay against the goods."
Another reason exchange companies are citing is that due to floods, supply from informal small players is not coming, it added.
Market experts are of the view that uncertainty on the political front and delay in inflows from friendly countries have put immense pressure on the local unit.
In FYTD, PKR lost 18.57 rupees or 8.31%, while it plummeted by 46.94 rupees or 20.99% against the USD in CYTD, as per data compiled by Mettis Global.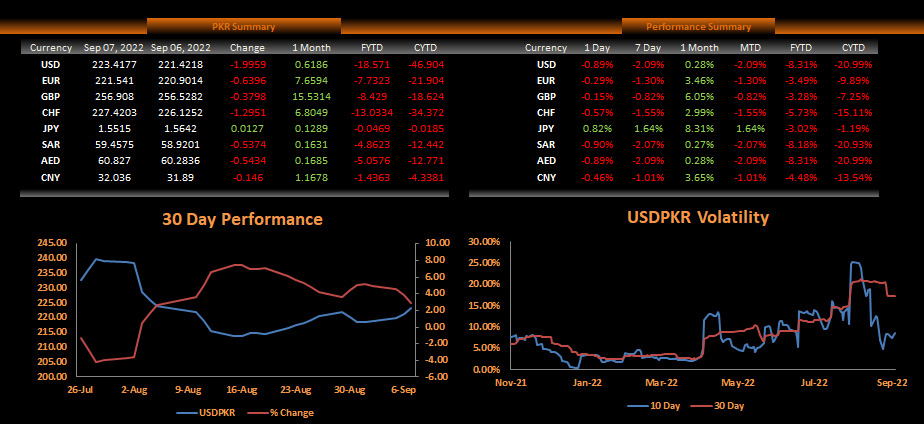 During the last 52 weeks, PKR lost 25.14% against the greenback while reaching its lowest at 239.94 on July 28, 2022, and the highest at 167.25 on September 08, 2021.
Furthermore, the local unit has weakened by 12.54% against EUR when it was highest on March 07, 22, while the rupee fell by 10.71% against GBP since its high on September 30, 2021.

Within a month, the local unit has appreciated by 8.31%, 6.05%, 3.65%, 3.46%, 2.99%, 0.27%, and 0.28% against JPY, GBP, CNY, EUR, CHF, AED, and SAR, respectively.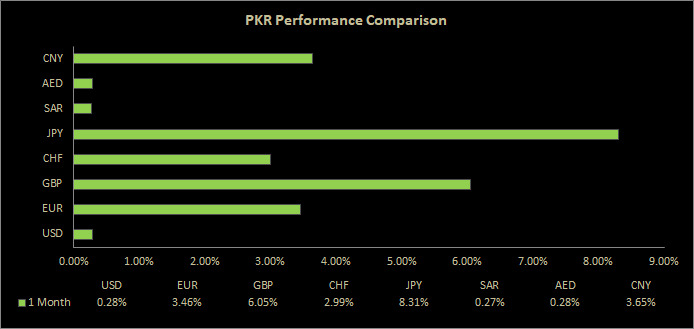 Meanwhile, the currency lost 38 paisa to the Pound Sterling as the day's closing quote stood at PKR 256.91 per GBP, while the previous session closed at PKR 256.53 per GBP.
Similarly, PKR's value weakened by 64 paisa against EUR which closed at PKR 221.54 at the interbank today.
On another note, within the money market, the overnight repo rate towards the close of the session was 14.50%/14.75%, whereas the 1-week rate was 14.85%/14.95%.
Copyright Mettis Link News
Posted on:2022-09-07T16:46:34+05:00
34984