November 15, 2021 (MLN): After enduring a rough patch of depreciation for a week, the Pakistani rupee (PKR) made a comeback today as the currency closed the trade at PKR 175.29 in interbank session, appreciating by 44 paisa against the US dollar. 
The turnaround in PKR's value is primarily owing to the positive statement by Advisor to the Prime Minister on Finance and Revenue wherein he hinted that the prevailing uncertainty pertaining to the IMF loan facility is going to be over soon. He also said that the government is keenly working to improve the purchasing power of the citizens to cope with the impact of global inflation. 
In the previous session, the domestic unit had closed at PKR 175.95 per USD after losing 1.5 rupees.
The local unit endured a volatile trading session with quotes being recorded in a range of 1.55 rupees per USD showing an intraday high bid of 175.75 and an intraday Low offer of 174.20.
Within the Open Market, PKR was traded at 175/177 per USD.
As per the data compiled by Mettis Global, the local unit has depreciated by 10.13% or PKR 17.75 in the fiscal year-to-date against the USD. Similarly, the rupee has weakened by 8.82% or PKR 15.46 in CY21, with the month-to-date (MTD) position showing a decline of 2.08%.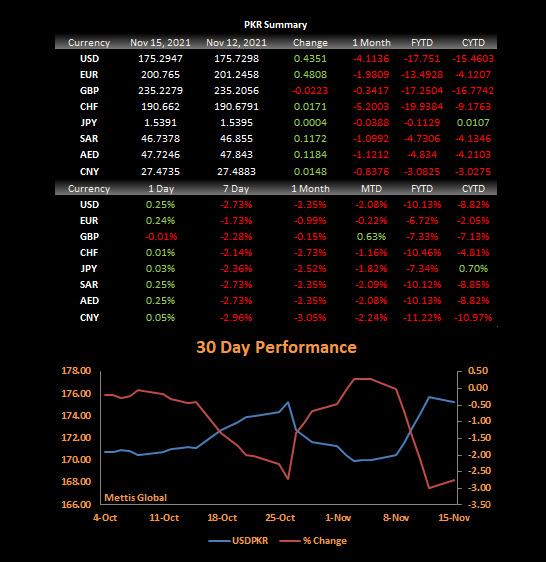 Alternatively, the currency lost 2 paisa to the Pound Sterling as the day's closing quote stood at PKR 235.23 per GBP, while the previous session closed at PKR 235.21 per GBP.
On the other hand, PKR's value strengthened by 48 paisa against EUR which closed at PKR 200.77 at the interbank today.
On another note, within the money market, the State Bank of Pakistan (SBP) conducted an Open Market Operation in which it injected Rs.117 billion for 4 days at 7.5 percent.
The overnight repo rate towards the close of the session was 7.60/7.80 percent, whereas the 1-week rate was 7.45/7.55 percent.
Copyright Mettis Link News
Posted on: 2021-11-15T16:01:58+05:00
28097