September 21, 2022 (MLN): Pakistani rupee (PKR) depreciated by 74 paisa against US Dollar (USD) in today's interbank session as the currency closed the day's trade at PKR 239.65 per USD, against yesterday's closing of PKR 238.91 per USD.
During the session, the rupee traded in a range of 0.25 paisa per USD, showing an intraday high bid of 239.75 and an intraday Low offer of 239.1.
Within the Open Market, PKR was traded at 243/245.4 per USD.
Alternatively, the currency gained 1.5 rupees against the Pound Sterling as the day's closing quote stood at PKR 271.74 per GBP, while the previous session closed at PKR 273.19 per GBP.
Similarly, PKR's value strengthened by 1.7 rupees against EUR which closed at PKR 237.35 at the interbank today.
"The demand for the dollar has increased over the months globally which is affecting the weak economy like Pakistan", Wajid Rizvi head of research at Intermarket securities said.
On another note, within the money market, the overnight repo rate towards close of the session was 14.50/14.15 percent, whereas the 1 week rate was 14.75/14.85 percent.
In FYTD, PKR lost 34.8 rupees or 14.52%, while it plummeted by 63.13 rupees or 26.3% against the USD in CYTD, as per data compiled by Mettis Global.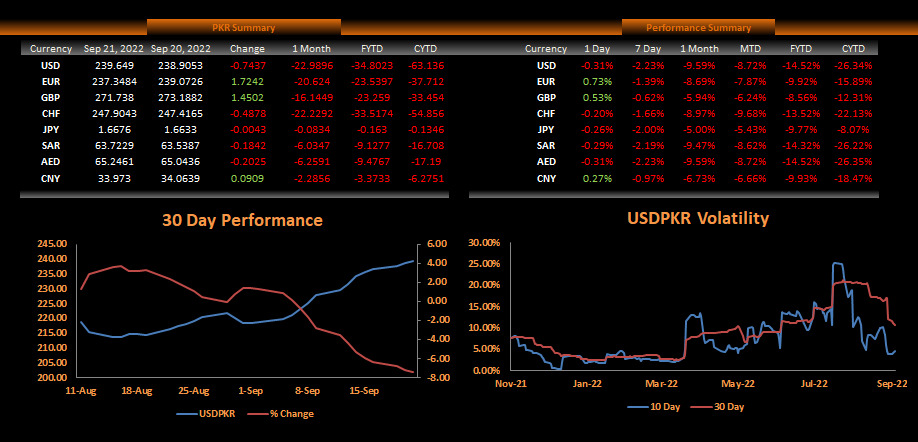 During the last 52 weeks, PKR lost 29.62% against the greenback while reaching its lowest at 239.94 on July 28, 2022, and the highest at 168.67 on September 22, 2021.
Furthermore, the local unit has weakened by 18.37% against EUR when it was highest at 193.75 on March 07, 2022, and lowest at 244.94 on August 01, 2022. While the rupee fell by 15.58% against GBP since its high of 229.398 on September 30, 2021 and low of 292.4 on July 28, 2022.

In MTD, the local unit has weakened by 8.72%, 9.68%, 8.72%, 8.62%, 7.87%, 6.66%, 6.24%, and 5.43% against USD, CHF, AED, SAR, EUR, CNY, GBP, and JPY respectively.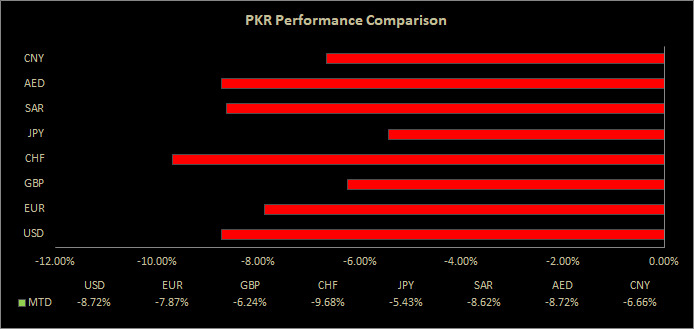 Copyright Mettis Link News
Posted on:2022-09-21T17:45:12+05:00
35181