October 12, 2021 (MLN): Closing a new all-time record low, the Pakistani rupee (PKR) settled the day's trade at 171.04 per USD, down by 30 paisa in the interbank's session, against yesterday's closing of PKR170.74.
Previously, the lowest recorded close was on October 6, 2021, at 170.96.
The rupee endured a volatile session, traded in a range of 60 paisa per USD showing an intraday high bid of 171.20, on the back of higher demand for the American currency, wrecking the traders' sentiments.
The rupee continued to bear the pressure despite a 17% YoY increase in remittances by overseas Pakistanis that stood at $2.7 billion in September 2021.
The NYK close on Monday added pressure on PKR while, higher exports and remittances did not come to its rescue, Asad Rizvi, the Former Treasury Head at Chase Manhattan said.
"Government is taking administrative measures after series of actions taken by the State Bank of Pakistan to check PKR slide," he added.
Within the Open Market, PKR was traded at 171.00/172.30 per USD.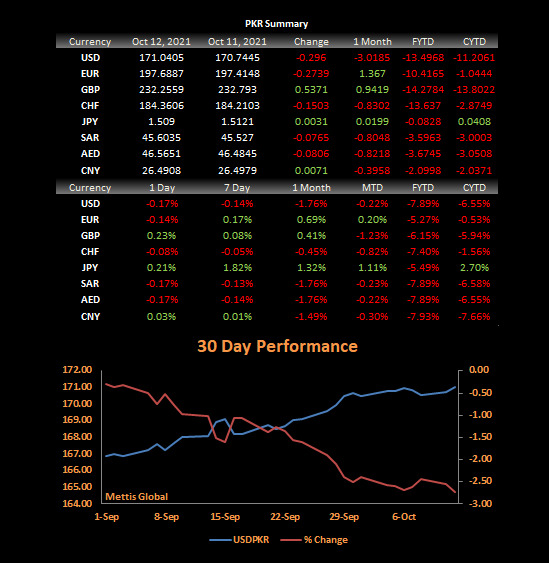 As per the data gathered by Mettis Global, the local unit has depreciated by 7.89% or PKR 13.49 in the fiscal year-to-date against the USD. Similarly, the rupee has weakened by 6.55% or PKR 11.20 in CY21, with the month-to-date (MTD) position showing a decline of 0.22%.
Alternatively, the currency gained 54 paisa against the Pound Sterling as the day's closing quote stood at PKR 232.26 per GBP, while the previous session closed at PKR 232.79 per GBP.
On the other hand, PKR's value weakened by 27 paisa against EUR which closed at PKR 197.69 at the interbank today.
On another note, within the money market, the overnight repo rate towards the close of the session was 7.00/7.20 percent, whereas the 1-week rate was 7.25/7.35 percent.
Copyright Mettis Link News
Posted on: 2021-10-12T16:20:07+05:00
27387