November 11, 2022 (MLN): After registering minor gains in three consecutive sessions, the Pakistani rupee (PKR) on Friday depreciated by 22 paisa against the US dollar in today's interbank session as the currency settled the trade at PKR 221.64 per USD, compared to the previous closing of PKR 221.42 per USD.
During the session, the rupee traded in a band of 35 paisa per USD showing an intraday high bid of 221.60 and low offer of 221.70 while in the open market, PKR was traded at 225/227 per USD.
The local unit remained under pressure on the back of melting foreign exchange reserves as foreign exchange reserves held by the State Bank of Pakistan (SBP) fell by $955.9 million to $7.96 billion during the week ended on 4th Nov'22.
The decrease in the foreign exchange reserves is due to external debt servicing and the major external debt repayments executed during the week include the repayment of GOP commercial loans.
Throughout the week, the currency gained 28 paisa against the greenback, as the previous week was concluded at PKR 221.92 per USD owing to the anticipation $8.8 billion in financial support from China including $3.3bn from China's commercial banks & $1.45bn additional financing in FY23.
In addition, the news flow pertaining to the upcoming visit of Saudi King Salman visit to Pakistan had also added positive sentiments in the interbank.
The demand for the dollar remained dimmed in previous sessions mainly due to the presser issued by the central bank in which it warned that with the help of the Federal Investigation Agency (FIA), joint action against illegal foreign exchange operators and speculators across the country.
The positivity has further strengthened on Thursday on the approval of $500 million co-financing for Pakistan under Building Resilience with Active Countercyclical Expenditures (BRACE) program by the board of the Asian Infrastructure Investment Bank (AIIB).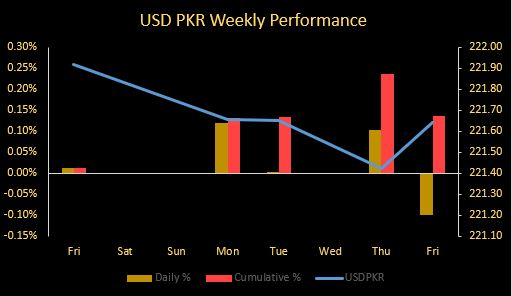 Meanwhile, the currency lost 7.5 rupees to the Pound Sterling as the day's closing quote stood at PKR 260.03 per GBP, while the previous session closed at PKR 252.49 per GBP.
Similarly, PKR's value weakened by 5.2 rupees against EUR which closed at PKR 226.9 at the interbank today.
On another note, within the money market, the central bank conducted an Open Market Operation (OMO) today, in which it moped up Rs82 billion from the market for 6 days at 14.98%.
The overnight repo rate towards the close of the session was 15.50/15.75%, whereas the 1-week rate was 14.95/15.05%.
Copyright Mettis Link News
Posted on:2022-11-11T16:34:01+05:00
35825