May 27, 2022 (MLN): The government's decision of increasing petroleum prices to avail IMF bailout package has made the Pakistani rupee (PKR) break the long losing streak and gained 2.3 rupees against the US dollar in today's interbank session as the currency settled the week's trade at PKR 199.76 compared to yesterday's closing of PKR 202.01 per USD.
During the session, the local unit traded in a range of over two rupees per USD witnessing an intraday high bid of 200.80 and an intraday low offer of 198.50.
Throughout the week, the domestic unit suffered from the storm of panic and uncertainty amid delaying IMF tranche, depleting foreign exchange reserves, and rising political temperature which led PKR to lose 1.86 rupees in the previous four sessions.
At present, the total liquid foreign exchange reserves held by the country dropped by $11 million or 0.1% WoW to stand at the lowest level of $16.1 billion since Dec 06, 2019, which is barely enough to cover 1.48 months of imports.
It is pertinent to mention that the aggressive hike in the policy rate by 150 basis points had also not been able to wipe off the panic from the market due to the absence of fiscal consolidation. Monetary Policy Committee (MPC) therefore, emphasized the urgency of strong and equitable fiscal consolidation to alleviate pressure on inflation, market rates, and the external account.
However, the inconclusive end of the Doha talks where IMF has subjected the removal of energy subsidy to the release of the next tranche worth $900mn, compelled government to increase the petroleum prices, and as a result market participants breathed a sigh of relief in today's session.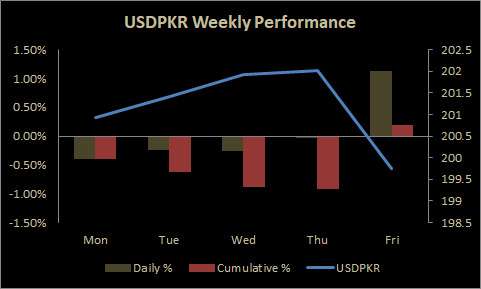 From July'21 to date, the local unit has lost Rs42.21 against the USD. Similarly, the rupee fell by Rs23.24 in CYTD, with the month-to-date (MTD) position showing a decline of 7.04%, as per data compiled by Mettis Global.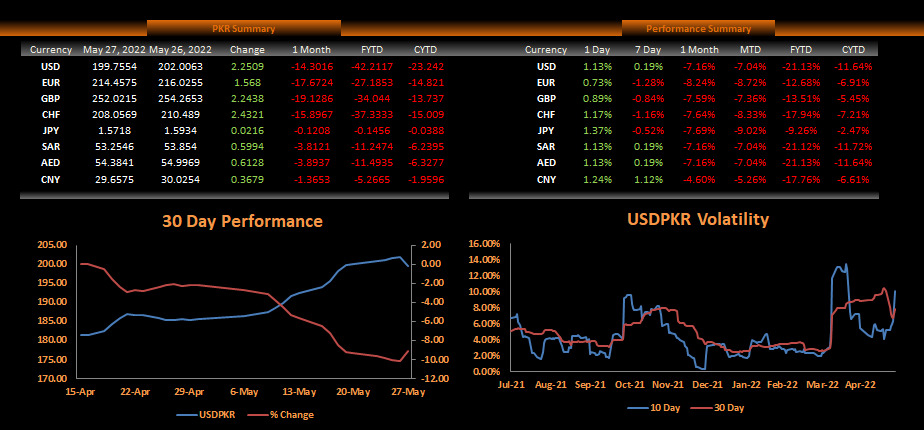 During the last 52 weeks, PKR lost 22.71% against the greenback, reached its lowest at 202 today, and touched its high of 154.39 on May 31, 2021.
Furthermore, the local unit has weakened by 12.90% since its high on July 02, 2021, against EUR while, it has dropped by 13.79% against GBP since its high on July 02, 2021.

In addition, the performance of PKR remained bleak against major currencies the in seven sessions as it weakened by 1.28%, 1.16%, 1.12% 0.84%, 0.52%, 0.19%, and 0.19% against EUR, CHF, CNY, GBP, JPY, SAR, and AED, respectively.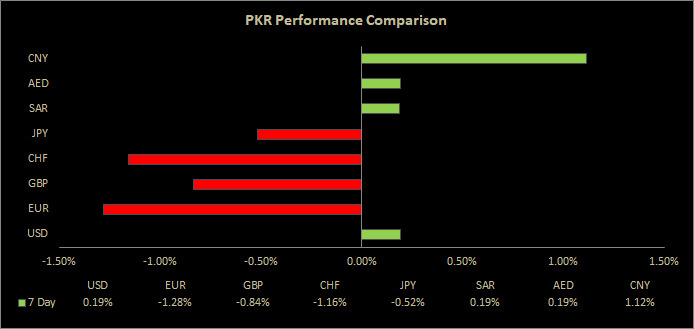 Within the open market, PKR was traded at 200/201.5 per USD.
Meanwhile, the currency gained 2.2 rupees against the Pound Sterling as the day's closing quote stood at PKR 252.02 per GBP, while the previous session closed at PKR 254.27 per GBP.
Similarly, PKR's value strengthened by 1.6 rupees against EUR which closed at PKR 214.46 at the interbank today.
On another note, within the money market, the State Bank of Pakistan (SBP) conducted an Open Market Operation (OMO) in which it injected Rs1.39 trillion and Rs1.86tr into the market for 7 and 63 days at 13.78% and 13.84% respectively, bringing the total injections to Rs3.26tr.
It is important to note that SBP has conducted a 63-day OMO after a gap of 3-months. SBP last injected Rs425bn at a rate of 9.91% on Jan 7, 2022, for 63-days. Similarly, it also conducted such 63-day OMO injections on Dec 17, 2022, Dec 24, 2022, and Dec 31, 2022, by injecting Rs689bn, Rs382bn, and Rs274bn, respectively.
Meanwhile, yields especially in the shorter tenure rose sharply due to delays in the IMF program, huge subsidy on petrol/diesel, and depleting foreign exchange reserves.
In 2022 to date, 6M/12M T-Bill yields were up around 330bps to 14.61% to 14.65% till yesterday while yields on 3-year and 5-year bonds increased by 200bps and 130bps to 13.51% and 12.76%, respectively, a report by Topline Securities noted.
To recall, SBP in its last analyst briefing post-Monetary Policy Announcement stated that it can use various monetary policy tools to bring stability to secondary market yields. As a result of this development and the announcement of an increase in petrol prices, secondary market yields have started showing a downward trend.
Yields on shorter tenure instruments 6M/12M T-Bills are down by 20-40bps to around 14.4%, down from a recent high of 15.1% on May 16, 2022, the report added.
The overnight repo rate towards the close of the session was 13.75/14.00 percent, whereas the 1-week rate was 13.65/13.75 percent.
Copyright Mettis Link News
Posted on: 2022-05-27T17:27:57+05:00
33012