January 14, 2022 (MLN): Pakistani rupee (PKR) offset its yesterday's losses of 16 paisa today as the currency managed to gain 31 paisa against the US dollar in today's interbank session and settled the week's trade at PKR 176.07.
The rupee endured a relatively dull trading session with very little intraday movement, trading in a range of 30 paisa per USD showing an intraday high bid of 176.20 and an intraday low offer of 176.10.
During the week, the currency has appreciated 61 paisa against the greenback, as the previous week was concluded at PKR 176.67 per USD.
Throughout the week, PKR kept its stabilization mode intact but witnessed mild ups and downs. As per the experts, the apt policy measures of SBP helped PKR to ease off some pressure. Meanwhile, the capped dollar demand due to the new year eve also kept the local unit away from free fall.
In addition, the IMF related uncertainty has already disappeared from the market as the two bills, Finance (Supplementary) Bill 2021 and State Bank of Pakistan (Amendment) Bill 2021 have been passed which was necessary to ensure the sixth review of the country's $6bn Extended Fund Facility gets cleared by the IMF's Executive Board.
"As soon as the legislative procedures are completed, the IMF board will consider it for approval, Muzzammil Aslam said lately.
The IMF executive board meeting is expected to be scheduled between January 28 to 31.
From July'21 to date, the local unit has lost Rs18.52 against the USD. On the other hand, the rupee appreciated by 44 paisa in CY21, with the month-to-date (MTD) position showing an uptick of 0.25%, as per data compiled by Mettis Global.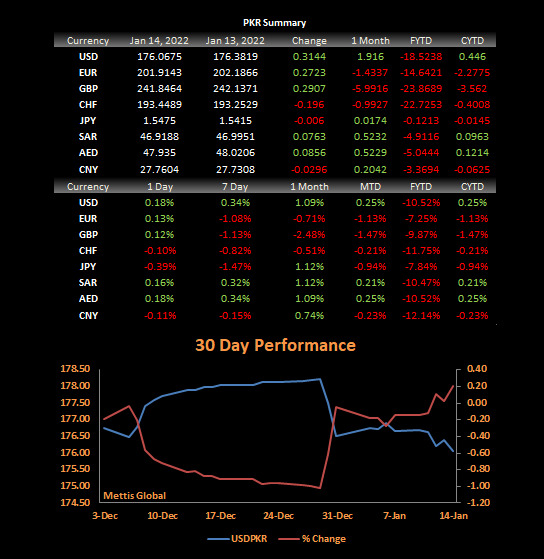 As per the Exchange Companies Association of Pakistan (ECAP), PKR gained 50 paisa for buying and selling over the day closed at 177 and 178 respectively in the open market.
Meanwhile, the currency gained 29 paisa against the Pound Sterling as the day's closing quote stood at PKR 241.85 per GBP, while the previous session closed at PKR 242.14 per GBP.
Similarly, PKR's value strengthened by 27 paisa against EUR which closed at PKR 201.91 at the interbank today.
On another note, within the money market, the State Bank of Pakistan (SBP) conducted an Open Market Operation (OMO) in which it injected Rs479.5 billion into the market for 7 days at 9.95 percent.
The overnight repo rate towards the close of the session was 9.95/9.85 percent, whereas the 1-week rate was 9.75/9.85 percent.
Copyright Mettis Link News
Posted on: 2022-01-14T16:06:57+05:00
30204