June 23, 2022 (MLN): Amid fast depleting foreign exchange reserves and the absence of any inflow i.e, from IMF and China, the interbank market has once again succumbed to panic which led the Pakistani rupee (PKR) to shed 1.04 rupees compared to the previous close of 207.23 per USD.
The local unit is being quoted at 208.21/208.46 per USD [11:08 PST] with the trades recorded at PKR 208.25 per USD.
The total liquid foreign exchange reserves held by the country dropped by $733 million or 4.9% WoW to stand at the lowest level of $14.2 billion since Jan 18, 2019, during the week ended on June 17, 2022, compared to $14.94bn in the previous week, weekly data released by the State Bank of Pakistan (SBP) on Thursday showed.
The data further revealed that reserves held by the central bank during the week dipped by $748mn or 8.3% WoW to clock in at the lowest level of $8.2bn since Oct 25, 2019, mainly due to external debt repayments.
Meanwhile, it is important to note that, the current level of foreign currency reserves is barely enough to cover 1.21 months of imports.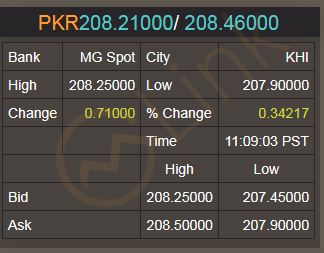 Copyright Mettis Link News
Posted on: 2022-06-24T11:08:59+05:00
33689