November 29, 2021 (MLN): Contrary to the market expectations, the Pakistani Rupee (PKR) took a dip of 74 paisa as the currency registered a new all-time low against US dollar at 176.2, breaking the previous low of 175.72 per USD.
In the previous session, PKR managed to settle the trade 175.46 per USD after losing 47 paisa.
Speaking to Mettis Global, Zafar Paracha, Secretary General of Exchange Companies Association of Pakistan said, "In the backdrop of satisfactory performance of all the major economic indicators, the notable plunge in the international commodity prices and the latest positive statement by the Shaukat Tarin, Advisor to the Prime Minister on Finance and Revenue, the downward slide of PKR is surprising."
"The ongoing depreciation may be a part of IMF conditionalities," he added.
Meanwhile, Asad Rizvi, the former Treasury Head at Chase Manhattan in his early morning Tweet said that owing to the long weekend in the USA, a drop in oil prices and the spread of outbreak news helped.
In thin market conditions, the backwardation position got corrected. Softer oil prices will ease pressure on the local unit to some extent, he noted.
The rupee endured a volatile trading session with quotes being recorded in a range of 1.25 rupees per USD showing an intraday high bid of 176.30 and an intraday Low offer of 175.05.
Within the Open Market, PKR was traded at 176.00/177.75 per USD.
The local unit has depreciated by 10.59% or PKR 18.65 in the fiscal year-to-date against the USD. Similarly, the rupee has weakened by 9.29% or PKR 16.36 in CY21, with the month-to-date (MTD) position showing a decline of 2.58%, as per the data compiled by Mettis Global.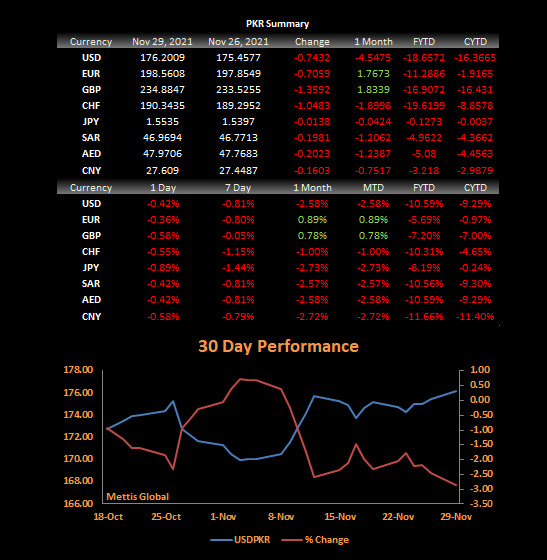 Meanwhile, the currency lost 1.4 rupees to the Pound Sterling as the day's closing quote stood at PKR 234.88 per GBP, while the previous session closed at PKR 233.53 per GBP.
Similarly, PKR's value weakened by 71 paisa against EUR which closed at PKR 198.56 at the interbank today.
On another note, within the money market, the overnight repo rate towards the close of the session was 9.10/9.30 percent, whereas the 1-week rate was 8.95/9.05 percent.
Copyright Mettis Link News
Posted on: 2021-11-29T17:18:40+05:00
29315