October 18, 2021 (MLN): Breaking the record for all-time low, the Pakistani rupee (PKR) closed the day's trade at PKR 172.78, depreciating by 1.6 rupees against the US dollar in today's interbank session.
On Friday, the local unit had closed the trade at PKR 171.18 per USD.
The strong dollar demand and rising international crude oil prices have pushed the domestic towards historic depreciation. However, Zafar Paracha, the chairman of the Exchange Companies Association of Pakistan termed the PKR devaluation as a "possible commitment" between Government and IMF.
In addition, no timeframe has been set yet for the conclusion of IMF negotiations, and delay in the release of the committed tranche also created pressure on the home unit.
The rupee endured a highly volatile trading session with quotes being recorded in a range of 2.15 rupees per USD showing an intraday high bid of 173.25 and an intraday Low offer of 171.10.
Within the Open Market, PKR was traded at 172/173 per USD.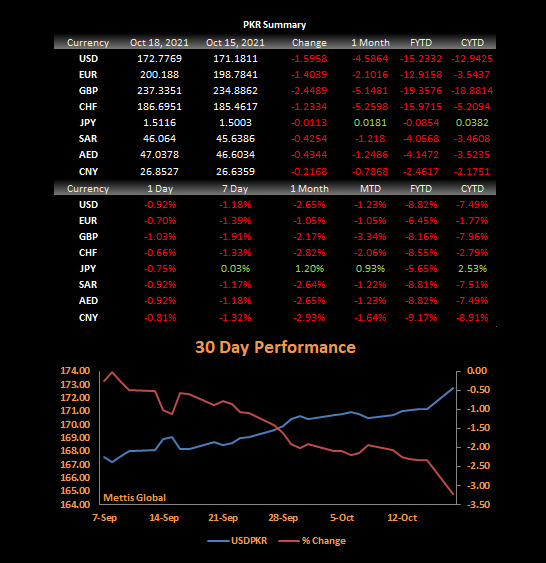 The domestic unit has depreciated by 8.82% or PKR 15.23 in the fiscal year-to-date against the USD. Similarly, the rupee has weakened by 7.49% or PKR 12.94 in CY21, with the month-to-date (MTD) position showing a decline of 1.23%, as per the data gathered by Mettis Global.
Meanwhile, the currency lost 2.4 rupees to the Pound Sterling as the day's closing quote stood at PKR 237.34 per GBP, while the previous session closed at PKR 234.89 per GBP.
Similarly, PKR's value weakened by 1.4 rupees against EUR which closed at PKR 200.19 at the interbank today.
On another note, within the money market, the overnight repo rate towards the close of the session was 7.40/7.65 percent, whereas the 1-week rate was 7.45/7.55 percent.
Copyright Mettis Link News
Posted on: 2021-10-18T16:12:19+05:00
27538