July 04, 2022 (MLN): After receiving the IMF's Memorandum of Economic and Financial Policies (MEFP) for combined 7th and 8th reviews, the Pakistani Rupee (PKR) continued enjoying recovery against the US Dollar (USD) in an interbank market. As of now, the domestic unit on Monday has appreciated by 85 paisa in intraday trade.
The rupee was quoted at 204.04/204.54 [10:22] when compared to the previous closing of 204.85 per USD.
Experts are of the view that this was the most significant step to validate that both sides have reached an agreement for the revival of $6 billion programs.
MEFP, a draft that has economic and financial targets for the seventh and eighth reviews includes an increase in electricity tariffs, imposing a levy on petroleum products, ending the government's role in determining the oil prices, and setting up an anti-corruption task force to review all the existing laws that were aimed at curbing graft in the government departments.
While, Zafar Paracha, President of Exchange Companies of Pakistan told Mettis Global, "Despite the expected inflows from IMF, China and Saudi, PKR will remain under pressure in the long term as the government has to repay debts in FY23."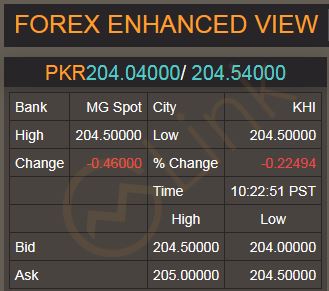 Copyright Mettis Link News
Posted on: 2022-07-04T10:25:07+05:00
33872