June 28, 2022 (MLN): As Pakistan is stepping closer to the most crucial IMF deal, the Pakistani rupee (PKR) started gaining ground in the interbank market against the greenback. The local unit settled today's trade at PKR 206.87 per USD, appreciating by 1.1 rupees, compared to the previous close of PKR 207.94 per USD.
During the session, the rupee traded in a range of 1.7 rupees per USD showing an intraday high bid of 207.5 and an intraday low offer of 206.00 while in the open market, PKR was traded at 206/207.5 per USD.
In response to the announcement of the Memorandum of Economic and Financial Policies (MEFP) received from International Monetary Fund (IMF) for the combined 7th and 8th reviews, PKR made a gain of Rs1.19 against the US dollar in the early hours.
Experts are of the view that this was the most significant step to validate that both sides have reached an agreement for the revival of $6 billion programs.
Speaking to Mettis Global, Zafar Paracha, President of Exchange Companies of Pakistan said, "Despite the expected inflows from IMF, China and Saudi, PKR will remain under pressure in the long term as the government has to repay debts in FY23."
Earlier on Friday, the State Bank of Pakistan (SBP) received a $2.3 billion loan from a Chinese consortium that also improved traders' sentiments.
From July'21 to date, the local unit has lost Rs49.33 against the USD. Similarly, the rupee fell by Rs30.36 in CY21, with the month-to-date (MTD) position showing a decline of 4.07%, as per data compiled by Mettis Global.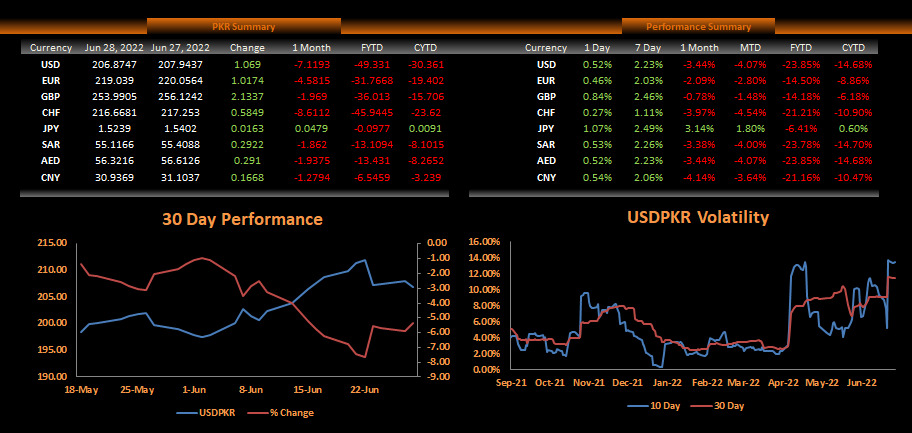 During the last 52 weeks, PKR lost 23.85% against the greenback while reaching its lowest at 211.93 on June 22, 2022, and the highest of 157.54 on June 30, 2021.
Furthermore, the local unit has weakened by 14.72% since its high on July 02, 2021, against EUR while, it has dropped by 14.46% against GBP since its high on July 02, 2021.

The performance of the local unit remained satisfactory against other major currencies in the last seven sessions as the currency appreciated by 2.49%, 2.46%, 2.26%, 2.23%, 2.03%, and 2.06% against JPY, GBP, AED, SAR, CNY and EUR, respectively.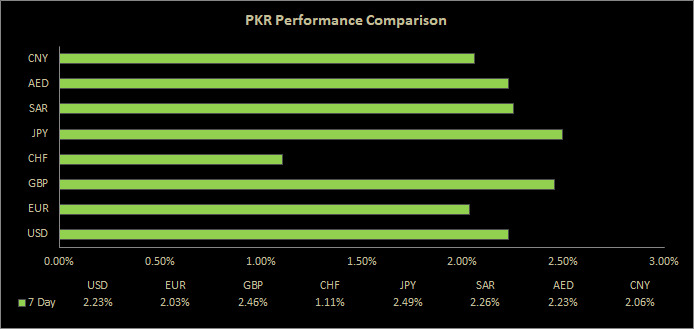 Meanwhile, the currency gained 2.1 rupees against the Pound Sterling as the day's closing quote stood at PKR 253.99 per GBP, while the previous session closed at PKR 256.12 per GBP.
Similarly, PKR's value strengthened by 1 rupee against EUR which closed at PKR 219.04 at the interbank today.
On another note, within the money market, the overnight repo rate towards the close of the session was 12.75/12.80 percent, whereas the 1-week rate was 12.95/13.05 percent.
Copyright Mettis Link News
Posted on: 2022-06-28T16:09:52+05:00
33775