June 28, 2022 (MLN): After the announcement of the Memorandum of Economic and Financial Policies (MEFP) received from International Monetary Fund (IMF) for the combined 7th and 8th reviews, the Pakistani rupee started showing signs of recovery on Tuesday in early trade as it has gained Rs1.19 against the US dollar in the inter-bank market.
The local unit was quoted at 206.75/207.25 [9:44 PST] compared to the previous close of PKR207.94 per USD.
The government of Pakistan has finally received the MEFP from the International Monetary Fund (IMF) earlier this morning which is a crucial step to validate that both sides have reached an agreement for the revival of $6 billion programs.
To note, on Friday, the State Bank of Pakistan (SBP) had received a $2.3 billion loan from a Chinese consortium that also improved traders' sentiments.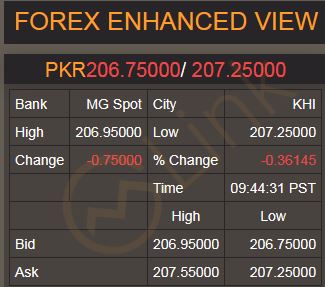 Posted on: 2022-06-28T09:48:53+05:00
33759