November 24, 2021 (MLN): Pakistani rupee (PKR) could not manage to hold its ground against the greenback for more than two days as it witnessed a sharp reduction of 74 paisa in today's interbank market and closed the session at PKR 175.04 per USD.
It is pertinent to mention that PKR managed to recover 95 paisa or 0.55% in the last two days on the back of the recent development on the IMF front wherein Pakistan and IMF authorities have reached a staff-level agreement.
However, the two-day rally quickly fizzled out as sentiments turned nervous when participants realized that IMF conditions are very demanding.
For the most part in the last couple of days market conditions remained choppy, said by Asad Rizvi, the former Treasury Head at Chase Manhattan.
The rupee endured a relatively volatile trading session with quotes being recorded in a range of 90 paisa per USD witnessing an intraday high bid of 175.20 and an intraday Low offer of 174.30.
Within the Open Market, PKR was traded at 174.50/176.50 per USD.
The local unit has depreciated by 10% or PKR 17.49 in the fiscal year-to-date against the USD. Similarly, the rupee has weakened by 8.69% or PKR 15.20 in CY21, with the month-to-date (MTD) position showing a decline of 1.93%, as per the data compiled by Mettis Global.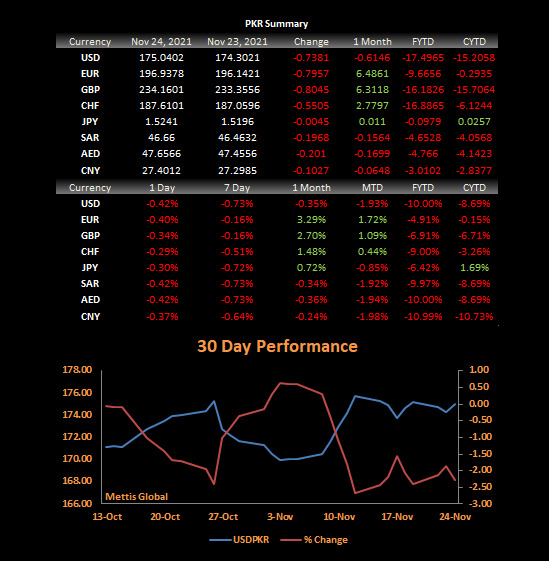 Meanwhile, the currency lost 80 paisa to the Pound Sterling as the day's closing quote stood at PKR 234.16 per GBP, while the previous session closed at PKR 233.36 per GBP.
Similarly, PKR's value weakened by 80 paisa against EUR which closed at PKR 196.94 at the interbank today.
On another note, within the money market, the overnight repo rate towards the close of the session was 9.40/9.60 percent, whereas the 1-week rate was 8.85/8.95 percent.
Copyright Mettis Link News
Posted on: 2021-11-24T15:52:51+05:00
29244