January 19, 2022 (MLN): Pakistani rupee edged slightly lower against the US dollar on Wednesday as it weakened by 4 paisa or 0.02% DoD  in the interbank trading to close at 176.22.
The home unit had closed at PKR 176.18 per USD yesterday.
The IMF board is meeting on Jan 28th, USD denominated Sukuk bond is likely to be issued soon,there is a whisper in the market that exports will do well by few billions,"  Asad Rizvi, the former Treasury Head at Chase Manhattan said on his Twitter.
Last year import bill was up by $11.5bn and this year pressure is immense, he added.
Going forward, home remittances of $31 billion annually could ease the pressure on the rupee, he said. He expects PKR to gradually inch up until the IMF announcement.
The rupee endured a relatively dull trading session with very little intraday movement, trading in a range of 0.2 paisa per USD showing an intraday high bid of 176.2 and an intraday Low offer of 176.1.
Within the Open Market, PKR was traded at 177/178 per USD.
From July'21 to date, the local unit has lost Rs18.67 against the USD. On the other hand, the rupee appreciated by 29.3 paisa from CY22 to date, with the month-to-date (MTD) position showing an uptick of Rs1.815, as per data compiled by Mettis Global.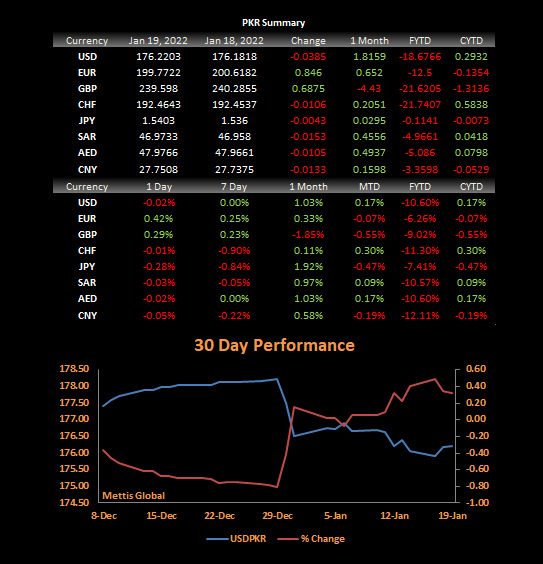 Alternatively, the currency gained 69 paisa against the Pound Sterling as the day's closing quote stood at PKR 239.6 per GBP, while the previous session closed at PKR 240.29 per GBP.
Similarly, PKR's value strengthened by 85 paisa against EUR which closed at PKR 199.77 at the interbank today.
On another note, within the money market, the overnight repo rate towards close of the session was 9.00/9.10 percent, whereas the 1 week rate was 9.55/9.65 percent.
Copyright Mettis Link News
Posted on: 2022-01-19T16:50:31+05:00
30290