September 24, 2021 (MLN): Pakistani rupee (PKR) remained under pressure in today's interbank session as the local unit fell by 5 paisa against the US dollar to close the trade at PKR 169.08.
On Thursday, the home unit has closed at PKR 169.03 in the interbank market.
In order to curtail the free movement of the dollar, support the balance of payment, and improve the valuation of the local unit, SBP has intervened with back-to-back strategies.
In this connection, SBP has asked commercial banks to provide information about imports worth $500,000. Moreover, the banks have also been asked to submit details about imports arriving in 5 days.
Furthermore, SBP has also revised the prudential regulations (PRs) on the side of Consumer Financing Loans to rein back the ballooning trade deficit amid a colossal rise in import bill.
The rupee traded within a range of 45 paisa per USD showing an intraday high bid of 169.40 and an intraday Low offer of 168.95.
During the week, the currency has lost 89 paisa against the greenback, as the previous week was concluded at PKR 168.19 per USD.
Within the Open Market, PKR was traded at 169.20 / 171.00 per USD.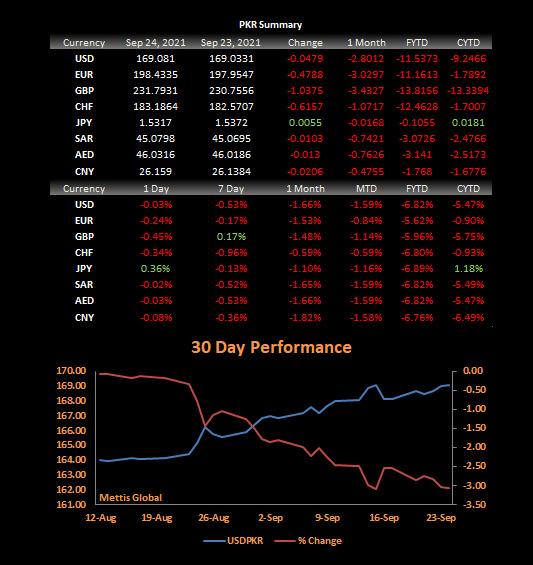 According to the data compiled by Mettis Global, the local unit has depreciated by 6.82% or PKR 11.53 in the fiscal year-to-date against the USD. Similarly, the rupee has weakened by 5.47% or PKR 9.24 in CY21, with the month-to-date (MTD) position showing a decline of 1.59%.
Meanwhile, the currency lost 1 rupee to the Pound Sterling as the day's closing quote stood at PKR 231.79 per GBP, while the previous session closed at PKR 230.76 per GBP.
Similarly, PKR's value weakened by 48 paisa against EUR which closed at PKR 198.43 at the interbank today.
On another note, within the money market, the State Bank of Pakistan (SBP) conducted an Open Market Operation in which it injected Rs.1.95 trillion for 7 days at 7.31 percent.
The overnight repo rate towards the close of the session was 7.30/7.40 percent, whereas the 1-week rate was 7.30/7.40 percent.
Copyright Mettis Link News
Posted on: 2021-09-24T17:11:41+05:00
27066