January 07, 2022 (MLN): Pakistani rupee (PKR) somehow managed to offset its previous sessions' losses, appreciating by 24 paisa against US dollar in today's interbank session as the currency closed the week's trade at PKR 176.67.
The IMF-related uncertainty is slowly wearing off from the market and clearly making some space for PKR to take some breath. As per the media reports, IMF Executive Board on its website updated the schedule for January 12, 2022. Pakistan – 2021 Article IV Consultation, Sixth Review Under the Extended Arrangement, under the Extended Fund Facility, and Requests for Waivers of Nonobservance of Performance Criteria and Rephasing of Access are included in the agenda.
On Thursday, the domestic unit had settled at PKR 176.92 per USD, after losing 18 paisa.
The rupee endured a relatively volatile trading session with quotes being recorded in a range of 75 paisa per USD showing an intraday high bid of 177.20 and an intraday low offer of 176.45.
During the week, the currency has lost 16 paisa against the greenback, as the previous week was concluded at PKR 176.51 per USD.
According to Asad Rizvi, the former Treasury Head at Chase Manhattan, "It's a tough start to the year. SBP reserves are down four times in a row to $ 17.69bn. Oil hovering above $80 and trade deficit at an all-time high which is causing uneasiness."
Since borrowing is the only option after remittances, Foreign Direct Investment (FDI) is not picking up. It is a difficult time for PKR, he added.
The currency witnessed a dip of PKR19.12 or 10.83% in the fiscal year to date while, the month-to-date (MTD) position showed a decline of 0.09%, as per data compiled by Mettis Global.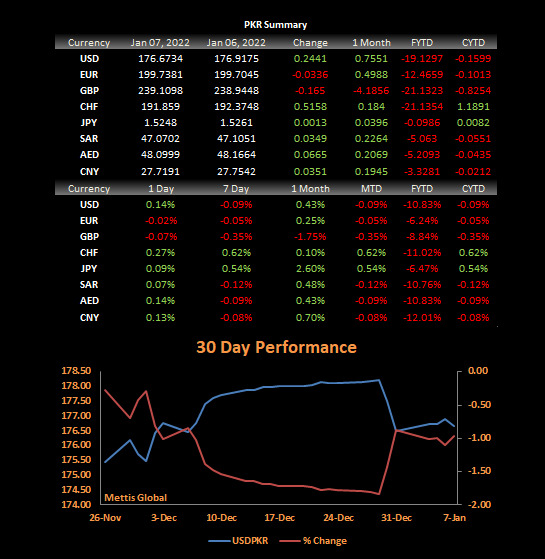 Within the Open Market, PKR was traded at 178/179 per USD.
Alternatively, the currency lost 17 paisa to the Pound Sterling as the day's closing quote stood at PKR 239.11 per GBP, while the previous session closed at PKR 238.94 per GBP.
Similarly, PKR's value weakened by 3 paisa against EUR which closed at PKR 199.74 at the interbank today.
On another note, within the money market, the State Bank of Pakistan (SBP) conducted an Open Market Operation in which it injected Rs320 billion and Rs424.5 billion into the market for 7 days and 63 days at 9.9% and 9.91%, respectively, bringing total injections to Rs744.5 billion.
The overnight repo rate towards the close of the session was 9.95/10.15 percent, whereas the 1-week rate was 9.85/9.95 percent.
Copyright Mettis Link News
Posted on: 2022-01-07T16:03:58+05:00
30033