June 28, 2022 (MLN):  In the backdrop of the significant developments on the IMF front and the fresh inflows from the Chinese consortium, the Pakistani rupee (PKR) has gained 1.87 rupees against the US dollar in the interbank market in early trade.
The local unit was quoted at 205.27/205.55 [10:15 PST] compared to the previous close of PKR206.87 per USD.
Since the government on Tuesday received the Memorandum of Economic and Financial Policies (MEFP) received from the fund, it will have to comply with the conditionalities that are included in MEFP.
To cater to this, the government is all set to table the amended Finance Bill in the Parliament in today's session for approval as it's one of the significant elements to striking a deal with IMF.
Pakistan will have to take at least two more prior actions to secure two combined tranches of about $1.85 billion from IMF by the end of July or early August.
Top government sources said these prior actions — which will be in addition to a series of structural benchmarks for the performance review — would be necessary for the Fund's executive board to approve the merger of the seventh and eighth quarterly reviews of the 39-month, $6bn loan program that originally began in July 2019, as reported by Dawn News.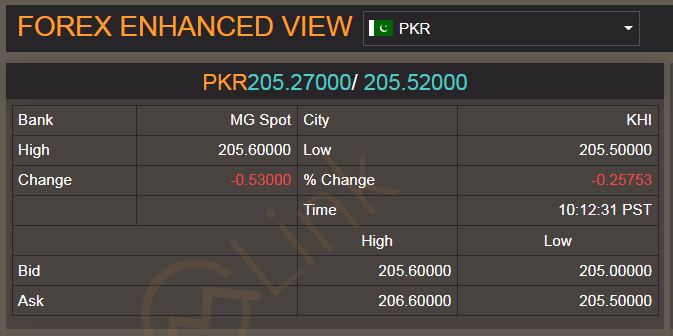 Copyright Mettis Link News
Posted on: 2022-06-29T10:15:29+05:00
33788