March 22, 2022 (MLN): Pakistani rupee (PKR) continued its losing journey where it has further shed 48 paisa against the US dollar in today's interbank session as the currency closed the trade at PKR 181.73, compared to the previous closing of PKR 181.25.
The rupee traded in a range of 63 paisa per USD showing an intraday high bid of 181.88 and an intraday low offer of 181.40.
The imported inflation on the back of external payments pressure and the uncertain condition at the local and international front have made the environment worst for PKR.
By now, the local unit has plunged to depth raising concerns among currency experts that the free-fall may continue if the ongoing situation does not get clear in any time soon.
From July'21 to date, the local unit has lost Rs24.18 against the USD. Similarly, the rupee fell by PKR5.21 in CY22, with the month-to-date (MTD) position showing a decline of 2.34%, as per data compiled by Mettis Global.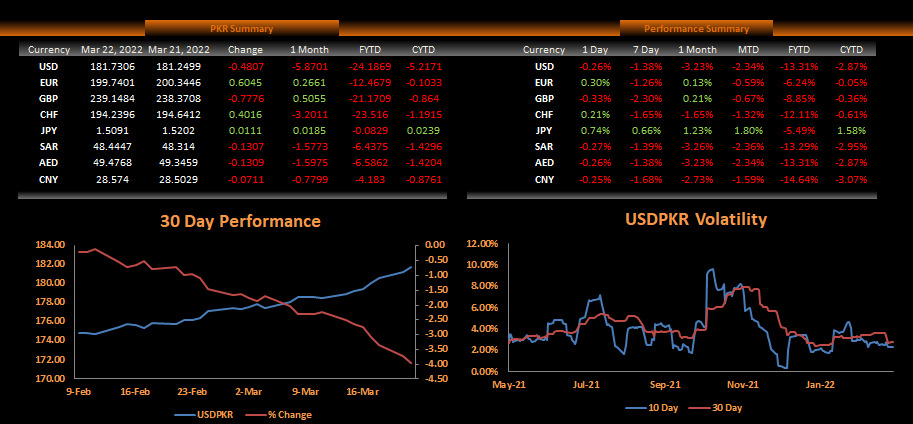 Within the open market, PKR was traded at 181.50/182.50 per USD.
Meanwhile, the currency lost 78 paisa to the Pound Sterling as the day's closing quote stood at PKR 239.15 per GBP, while the previous session closed at PKR 238.37 per GBP.
On the other hand, PKR's value strengthened by 60 paisa against EUR which closed at PKR 199.74 at the interbank today.
On another note, within the money market, the overnight repo rate towards the close of the session was 10.00/10.25 percent, whereas the 1-week rate was 10.05/10.15 percent.
Copyright Mettis Link News
Posted on: 2022-03-22T16:12:46+05:00
31615