March 19, 2022 (MLN): Pakistan's current account deficit (CAD) fell sharply by 78% to $0.5 billion in February 2022 from $2.53bn in January 2021, largely due to a decline in imports by 18% MoM, the central bank said showed today.
This was the lowest monthly deficit since April'21 and only one-fifth the level recorded in January 2022, SBP said.
During the month, exports were close to all-time highs, rising by 16% MoM to $2.9bn compared to January 2022. Imports during the month fell by 18% MoM to their lowest level of $5bn in FY22.
On a yearly basis, CAD rang alarming bells as it widened by 16x YoY in February 2022 from $34mn in the same month last year.
Going by the data, the trade deficit in goods went down by around 40% MoM to $2.28bn in February 2022 as exports of goods increased by 16% MoM while imports saw a decrease of 18% MoM. On a year-on-year basis, the trade deficit in goods improved slightly by 2% in the said month as exports rose by 32% YoY and imports up by 15% YoY.
Meanwhile, the trade balance in services, while still negative, dropped by 41% MoM to $284mn courtesy of a 17% MoM fall in imports while exports inched up by 5% MoM during the month under review. On yearly basis, the trade deficit in services swelled by 56% YoY in February mainly due to 25% YoY growth in services imports while exports also grew by 14% YoY.
Cumulatively, during 8MFY22, the country recorded CAD of $12bn as opposed to $994mn surplus recorded in the same period last year, reflecting a robust increase in imports.
The export of goods and services during July-Feb FY22 were $25bn compared to $19.9bn, an increase of 26% YoY.
The imports of goods and services increased by 48% to $54.98bn in 8MFY22 against $37.2bn in the same period of last year.
Workers' remittances increased by 3% MoM to $2.19bn from $2.14bn in January 2022. On yearly basis, remittances declined slightly by 3% YoY.
During July-Feb FY22, remittances by overseas Pakistani moved up by 8% YoY to $20.14bn from $18.7bn recorded in July-Feb FY21.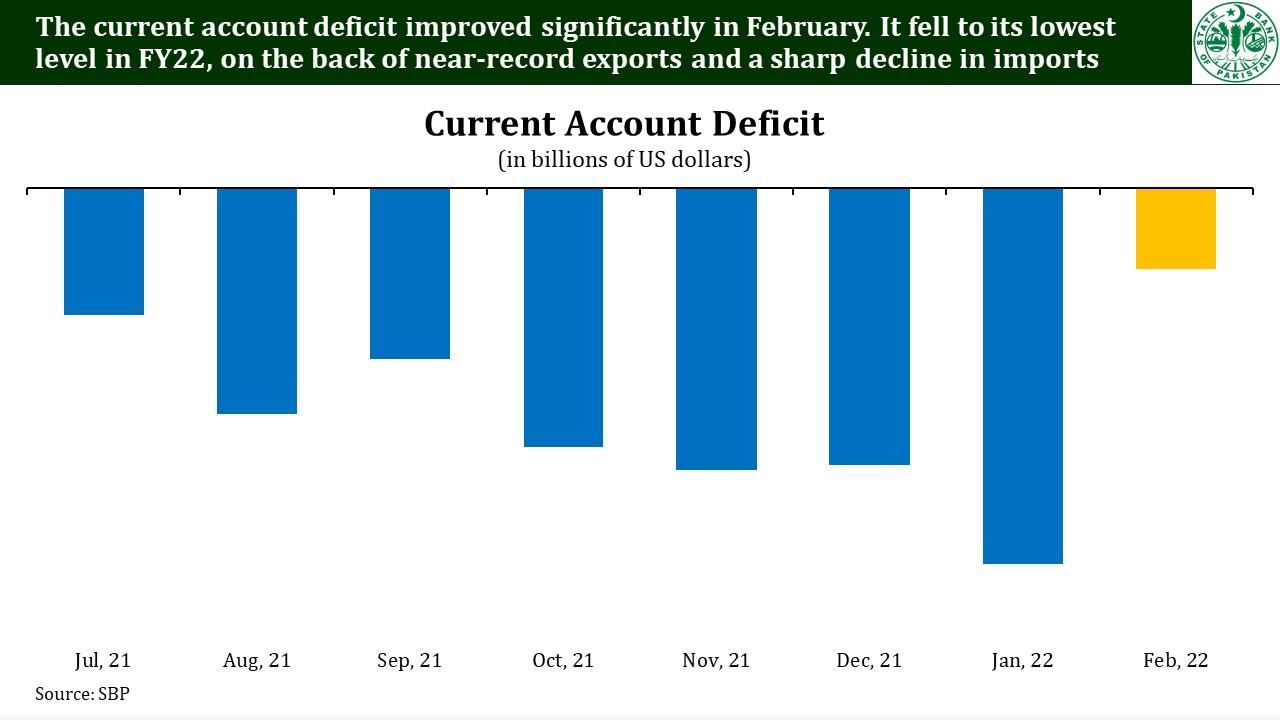 Copyright Mettis Link News
Posted on: 2022-03-19T16:16:42+05:00
31555