October 20, 2021 (MLN): The US dollar continued to make a new high, appreciating by 69 paisa against the Pakistani Rupee (PKR) in today's interbank session to close the trade at PKR 173.47.
According to the early morning Tweet of Asad Rizvi, the Former Treasury Head at Chase Manhattan, the economy is facing a series of tough events. The current account deficit is still a challenge and the International Monetary Fund (IMF) announcement could give some breathing space.
"However, FATF will keep the market on its toes until the clearance is obtained after the presentation of review performance," he added.
In the previous session, the local unit had settled at PKR 172.78 per USD.
The rupee endured a highly volatile trading session with quotes being recorded in a range of 2.79 rupees per USD showing an intraday high bid of 173.49 and an intraday Low offer of 173.00.
Within the Open Market, PKR was traded at 172.30/174.00 per USD.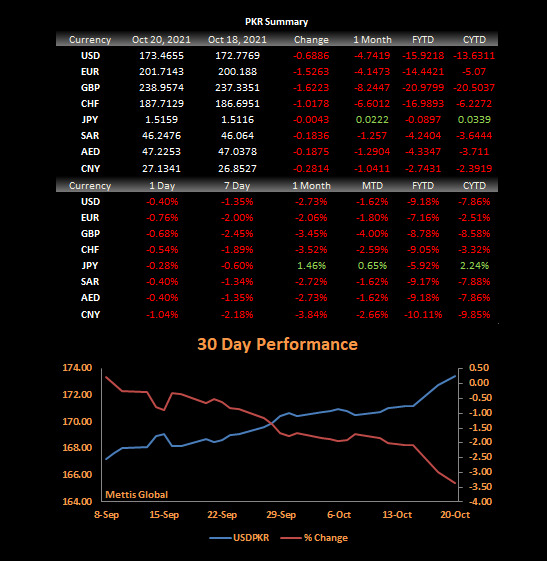 The domestic unit has depreciated by 9.18% or PKR 15.92 in the fiscal year-to-date against the USD. Similarly, the rupee has weakened by 7.86% or PKR 13.63 in CY21, with the month-to-date (MTD) position showing a decline of 1.62%, as per the data gathered by Mettis Global.
Meanwhile, the currency lost 1.6 rupees to the Pound Sterling as the day's closing quote stood at PKR 238.96 per GBP, while the previous session closed at PKR 237.34 per GBP.
Similarly, PKR's value weakened by 1.5 rupees against EUR which closed at PKR 201.71 at the interbank today.
On another note, within the money market, the overnight repo rate towards the close of the session was 7.35/7.45 percent, whereas the 1-week rate was 7.30/7.40 percent.
Copyright Mettis Link News
Posted on: 2021-10-20T16:19:23+05:00
27569