May 24, 2022 (MLN): Pakistan's cement sector is likely to pay the price of prevailing micro/macro-economic, political and geopolitical scenarios in lower margins in the fiscal year 2022-23 as the country's uncertain dynamics will dominate the long-term perspective for the sector.
A report by Pearl Securities has an underweight stance on the cement sector due to key premises that include lower demand amid lesser PSDP utilization and expected cut in PSDP in the budget FY22-23, rising construction cost, volatility in international commodity prices, persistent hike in interest rates, supply chain concerns amid Russia-Ukraine chaos, and inflationary pressure.
Relatively, since the start of FY22, the cement sector has underperformed by 39.6% as compared with the KSE-100 index which has also posted a negative growth of 9.97% in the same period under review.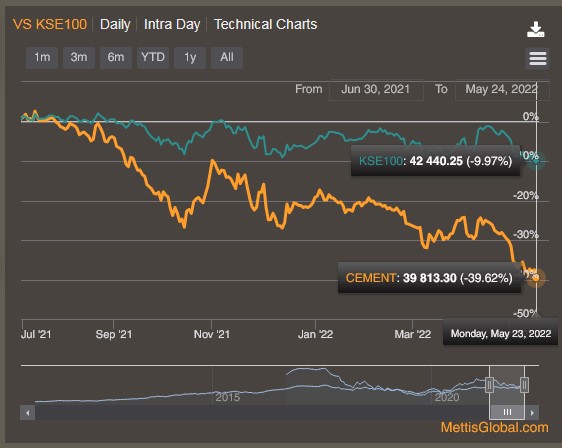 The contraction in both demand and margins is expected to decline to 22.6% in the current fiscal year while it may further reduce to 17.33% in the fiscal year 2022-23 amid an increase in power & gas tariffs, and the upcoming price war.
The cement sector somehow passed on the impact of soaring coal prices by increasing its prices. However, the companies were unable to fully pass on this impact due to demand concerns as the price war is likely to take place wherein the players have to maintain a risk balance by giving notable discounts and by upholding the breakeven level.
While the unrest and geopolitical chaos once again lifted the commodity cycle as Richard Bay Coal touched the historic high of $460/ton during the 3QFY22. However, the report estimates for FY23E are based on a PKR/ $ of 190 and international coal prices of $230/ton, it added.
With the rising momentum of int'l coal prices and inflationary pressure, most of the cement manufacturers have switched towards Afghan coal as it has been offered at ~35-45% discount from Richard Bay Coal.
Meanwhile, the report believes that the Afghan market will also follow the trend of increasing coal prices which might be a disappointment for cement makers mainly due to disruption in the production cost of the players.
Going by the report, the cement prices below Rs642/bag will threaten the cash flow positions of the leveraged companies including ACPL, MLCF, PIOC, and KOHC. Though, the companies including FCCL, DGKC, CHCC, and LUCK are likely to go as low as Rs600/bag, respectively.
Regarding higher interest rates, most of the cement companies have postponed plans due to consistent rate hike – a hefty burden for leveraged players as they are not capable of bearing an extra finance cost amid lower demand and higher input costs.
Going forward, the report believes that an expectation of a notable cut in Pakistan's Public Sector Development Projects (PSDP) allocation for the budget 2022-23 will diminish the capital flows in the sector and perhaps reduce the activities of private construction in the near term.
Copyright Mettis Link News
Posted on: 2022-05-24T14:55:55+05:00
32928