May 15, 2022 (MLN): A turbulent week at PSX ended with a loss of 1,354 points or 3%, WoW to settle at 43,486 level as political uncertainty and indecisiveness over pre-requisites for IMF program resumption weighed heavily on investors' sentiment with PKR-USD parity closing at an all-time lowest level of Rs192.53.
While country's FX reserves which are currently standing at a 23-month low of $10.31bn (down by $190mn WoW) due to a delay in the revival of the IMF bailout and a lack of financial support from friendly countries added pressure on the local bourse.
Furthermore, inflationary concerns have picked up pace as lately, oil prices globally have started increasing, which again signifying towards the balance of payment management and higher local inflation.
In terms of USD, the index declined by a notable 5.99% from last week.
During the week, the bourse witnessed 2 sessions in favour of bull and 3 sessions in favour of bear. The KSE-100 index oscillated between high and low of 44,841 and 42,273 levels, respectively, before settling the week at 43,486 levels.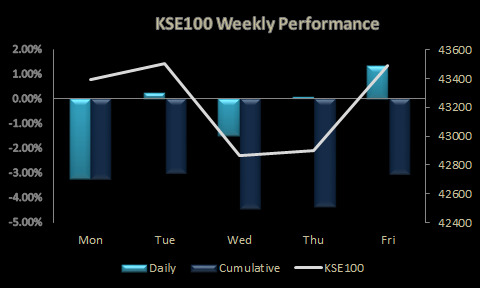 From the sector-specific lens, Banks, Cement, Technology, Fertilizers, and Power Generation & Distribution companies kept the index in red territory as they snatched 352, 212, 173, 153, and 63 points from the index respectively.
Contrary to that, Sugar & Allied Industries, and Tobacco during the week collectively contributed 10 points to the bourse.
Scrip-wise, SYS, LUCK, HBL, UBL, and EFERT were the worst-performing stocks during the week as they took away 122, 106, 79, 64, and 64 points from the index respectively. Whereas POL, MTL, LOTCHEM, SML, and COLG collectively added 91 points to the index.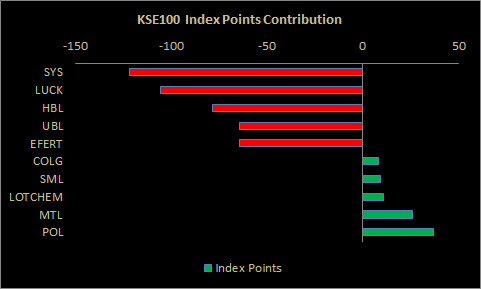 Meanwhile, the KSE All Share market cap decreased by Rs243.4 billion or 3.27% over the week, being recorded at Rs7.19 trillion as compared to a market cap of Rs7.44tr recorded last week.
Flow-wise, foreigners were the net sellers during the week, offloading stocks worth $1.88mn compared to a net purchase of $2mn last week. Sector-wise, major selling was witnessed in Banks ($1.6mn) and Cement ($1.4mn).
On the local side, the majority of the buying was reported by Banks, Organizations, and Brokers amounting to $16.3mn, $1.5mn, and $1.1mn, respectively. However, Individuals and Mutual Funds stood on the other side with net selling of $10.4mn and $3.2mn respectively.
Copyright Mettis Link News
Posted on: 2022-05-15T16:46:32+05:00
32729