September 30, 2021 (MLN): Taking into account new price impulses in September and the low base effect, YoY inflation in September is likely to resume its declining trend observed in recent months and may end up between 7.5 percent to 8.4 percent.
In its latest Monthly Economic Update & Outlook, the Finance Ministry noted that in the month of September, MoM inflationary impulses may come from 2nd round effects of a previous increase in international commodity prices, currency depreciation and some seasonal factors.
On the other hand, the government's efforts to temper the pass-through of international commodity prices into domestic retail prices are still in place and being continuously monitored and strengthened. Furthermore, new price impulses in September may have been somewhat compensated by significant base effects. If no new inflationary impulses would have occurred in September as compared to August, YoY inflation may decelerate in September 2021.
The ministry highlighted that there is a 20 percent increase in cotton production, likewise, news about sugarcane production is also encouraging. Agriculture credit disbursement has shown a growth of 7.5 percent during July-August FY2022. Further, other input availability is also satisfactory, thus it is expected in absence of any adverse climate shock, agriculture sector growth will remain as per the target of 3.5 percent.
The government's efforts at fiscal consolidation, prudent expenditure management since FY2019 had a strong carry-over impact in FY2021. It is likely to continue in the current fiscal year.
On the revenue side, FBR tax collection grew by 47.4 percent to Rs 442.3 billion in the month of August, FY2022 against Rs 300.0 billion in the comparable period of FY2021. Tax collection has surpassed the target by Rs 94 billion set for the month of August. FBR tax collection continues to be strong, showing that domestic economic activity is on the upswing. In addition, efforts to boost tax collection are yielding results. It is expected that FBR tax collection would achieve its target.
On the industrial front, in July 2021, LSM witnessed an increase of 2.3 percent against 8.1 percent in July 2020. LSM performance remained sluggish offsetting the base effect as the graph shows a hefty contraction followed by a sharp recovery. The closure of industrial activities during holidays in Eid-ul-Adha and monsoon rains which spread over 15 days also hampered the growth momentum. Meanwhile, some revision in the previous data (FY2021) has also been observed which has caused a low pace in LSM growth during July FY2022.

Based on recent performance and the government's proactive measures, it is expected that the industrial sector will follow an upward trend and achieve a growth target.
Since March 2021, the Monthly Economic Indicator (MEI) is on a higher level as compared to the previous months. This is based on favorable movements in macro-economic high-frequency indicators which exert strong multiplier effects on the services sector, along with recovery in Pakistan's main trading partners. Therefore, the MEI is expected to remain significant with the continuation of dynamism in domestic value-added creation.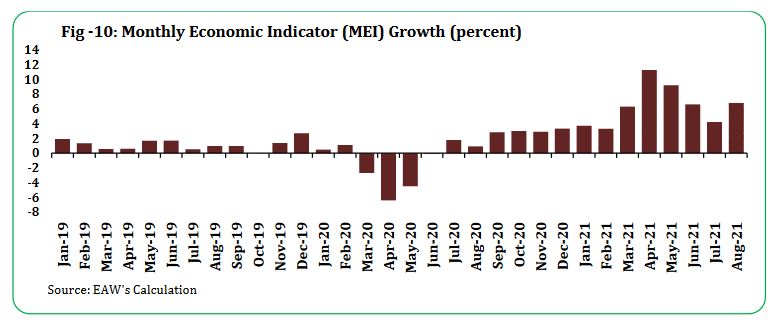 Given the continuing pace of economic recovery and the observed dynamism of recently observed import activity, the ministry said that imports of goods and services for the coming month are expected to decline from the August level. Exports of goods and services in August 2021 according to BOP data, were not far behind the expected $3 billion mark.
For next month, the ongoing strong recovery in Pakistan's main export markets, the momentum in domestic economic dynamism and specific Government policies to stimulate exports are expected to get exports of goods and services above the $3 billion level and more in the subsequent months.
These expected developments would reduce the balance on trade in goods and services around $3 billion in September 2021, as well as in the coming months. If remittances were to stabilize approximately $ 2.5 billion and taking into account the other secondary and primary income flows, the current account would remain in deficit but in a manageable range.
These expectations depend on the absence of unexpected negative shocks. These may be generated by the potential slowdown of the economic revival abroad (due to loss of confidence, inflation fears, fears for tapering of monetary accommodation and geopolitical risks) and by an unexpected continued surge in imports. An international and domestic upsurge in COVID-19 infections remains an important risk factor as well, the outlook report stated.
Moving forward, Pakistan's economy is currently on a higher growth path. For long-term sustainable economic growth, the expansion of domestic production stands vital, which is being managed by appropriate structural reforms introduced by the Government. However, there are some downside risks to the outlook of Pakistan's economy associated with rising international commodity prices, new variants of virus and geopolitical dynamics especially post August 15 scenario, emerged in Afghanistan, it added.
In the short term, sustainability of the current growth requires that the trade deficit remains manageable. In this regard, import dynamics are being closely monitored. Exports can benefit from the current domestic and foreign economic dynamism. It is mentionable that inflation in some of Pakistan's main export markets is rising significantly. However, domestic inflation is expected to decline. Maintaining REER at the current level, the need for depreciation of the Rupee exchange rate is reduced significantly. The government policies for export promotion will also anchor for providing external sector stability, the report concluded.
Copyright Mettis Link News
Posted on: 2021-09-30T17:42:59+05:00
27181