June 21, 2022 (MLN): With the highest ever daily inflow of $57 million today, the total deposits in Roshan Digital Account (RDA) have crossed $4.5 billion,
"Today marks yet another historic day in Roshan Digital Account, with $57mn in deposit inflows, highest ever daily figure", SBP tweeted.
With this significant increase, total deposits in RDA have crossed $4.5 billion, SBP added.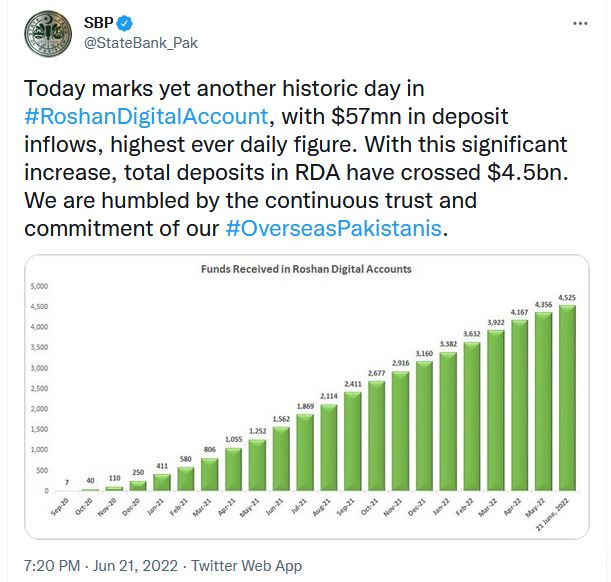 To recall in the month of May'22, foreign exchange inflows through RDA stood at $4.4 billion. Of the total $4.4bn, around 65% or $2.8bn was invested in high-return Naya Pakistan Certificates (NPCs) during one year and nine months. Meanwhile, a small part of the $39 million investment has been observed in the equity market through RDA.
In a recent podcast, Acting Governor SBP, Dr Murtaza Syed said that RDA inflows are intact. "Daily inflow is $8-10 million," he said, adding that it is a product of the State Bank, while more products are in the pipeline to attract overseas Pakistanis.
Copyright Mettis Link News
Posted on: 2022-06-21T22:11:44+05:00
33602