June 29, 2022 (MLN): From a fluffy cloud on the horizon to dark clouds hovering above our heads, inflation has turned into a perfect storm, exacerbated by the removal of energy subsidies amid soaring oil prices. While, in this inflationary environment, rising prices have inexorably been shrinking the real purchasing power of Pakistanis, hitting the poorer the hardest.
The consumer price index (CPI) which is due this Friday is likely to settle around 17.7%-19.8% with an average estimate of 18.82%-highest in over a decade, compared to 13.8% YoY in the last month and 10.9% YoY in June 2021.
This would bring FY22 average inflation to 11.98% as against 8.9% in the fiscal year 2020-21, well above SBP's officially stated target of 9-11%.
Steve H. Hanke, Economist and professor at Johns Hopkins University said on Twitter that Pakistan's inflation is standing at a stunning 43% per year.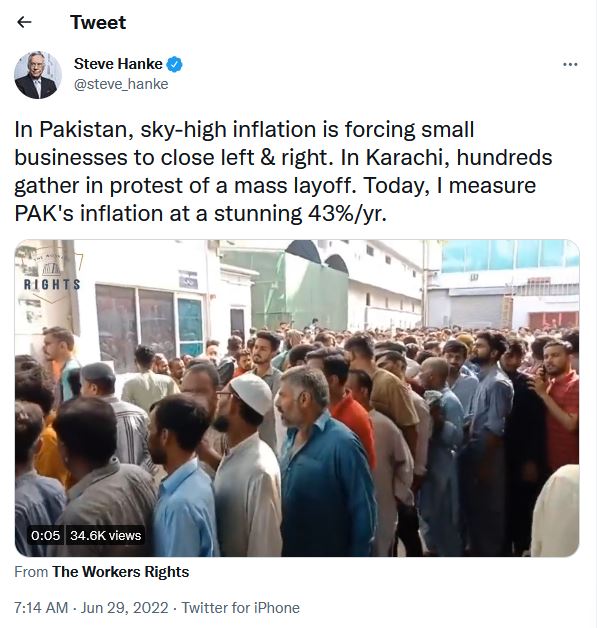 While the monthly outlook of June 2022 by the Finance Ministry estimated that annual inflation is expected to accelerate in June and may hover around 14.5-15.5%. Withdrawal of subsidies to control the mounting twin deficit will be the main reason for this acceleration.
Further, the recent rise in international commodity prices especially energy and food will also be translated into domestic prices, the ministry noted.
Going by the projections put forth by various brokerage houses, the CPI, on a sequential basis, is expected to escalate with an average estimate of 4.19% MoM compared to the increase of 0.4% MoM in May 2022. This is due to fuel inflation and its impact on the food index which has been making headlines since the removal of energy subsidies in subservience to the IMF in resuming the stalled programme.
CPI Projections for June 2022

YoY (%)

MoM (%)

Spectrum Securities

18.87

4.24

AKD Securities

18.43

3.83

Abbasi and Company

19.80

5.00

Arif Habib Limited

18.80

4.17

Alfalah CLSA

19.60

4.80

Darson Securities

19.60

4.84

Pearl Securities

18.50

3.80

JS Global

19.20

4.53

Intermarket Securities

18.21

3.66

Insight Securities

19.10

4.30

Next Capital

18.40

3.80

Sherman Securities

18.50

3.90

Taurus Securities

17.70

3.20

Range

17.7-19.8

3.2-5

Mode

19.60

3.80

Median

18.80

4.17

Average

18.82

4.16

Expected Average Inflation in FY22

11.89%
The massive rise in fuel prices due to higher international oil prices and the end of subsidies by the government would drive the CPI during the month, reflecting in the transportation index as the average petrol and diesel prices increased by 39% MoM and 48% MoM respectively.
Other than the energy inflation, which is likely to rise by 23% MoM, the food inflation would be the biggest driver of headline inflation as prices of both perishable and non-perishable food items show a major increase. The biggest jump would be seen in prices of potatoes, eggs, pulses, ghee, cooking and oil amid higher palm oil prices and the currency depreciation, up by 15%-35%.
An increase in beverage prices will also add to inflationary outturns in June as prices of tobacco continue to rise owing to supply constraints. Additionally, taxes in the current budgetary changes will also lead to higher inflationary outturns, going forward.
Inflation, IMF and Monetary Outlook
With the risk tilted to the upside on the back of currency depreciation and rising fuel prices from levies and taxes as the government brings budgetary changes, the fiscal year 2022-23 is expected to be a difficult year as headline inflation may settle in between 15-20%, the market expects.
In FY22, the central bank increased the policy rate by 675 basis points but the real interest rate is still hovering in the negative territory at 5.1%.
Since inflationary expectations have started to mount, SBP has restarted providing liquidity via higher tenor OMOs to stabilize cut-off yields in T-bill auctions despite high bids, said Wajid Rizvi, head of research at Intermarket Securities.
Despite SBP's actions regarding enhancing liquidity, more importantly, to align with the proposed fiscal contractionary settings of Budget FY23, the market experts believe that the SBP would raise the policy rate by a further 50-150 bps in the upcoming MPC meeting on the 7th July 2022, in view of higher inflation forecast and likely agreement with the IMF.
In the latest Bloomberg report, the country would probably have to increase fuel prices along with the policy rate by 50 bps in the next quarter before it receives IMF cash.
Posted on: 2022-06-30T15:17:50+05:00
33826