October 27, 2021 (MLN): After enduring a sharp decline in the previous sessions, the Pakistani rupee (PKR) rebounded by 2.5 rupees against the US dollar in today's interbank session as the currency closed the trade at PKR 172.78.
On Tuesday, the local unit had closed at175.27 per USD.
The domestic unit finally managed to recover some lost ground following the announcement of the Saudi government to provide financial support of $4.2 billion to Pakistan to help ease pressure on trade and increase foreign currency reserves.
The rupee endured a highly volatile trading session with quotes being recorded in a range of 2.4 rupees per USD showing an intraday high bid of 175.20 and an intraday Low offer of 172.80.
Within the Open Market, PKR was traded at 174.00/175.70 per USD.
The domestic unit has depreciated by 8.82% or PKR 15.23 in the fiscal year-to-date against the USD. Similarly, the rupee has weakened by 7.49% or PKR 12.94 in CY21, with the month-to-date (MTD) position showing a decline of 1.23%, as per the data compiled by Mettis Global.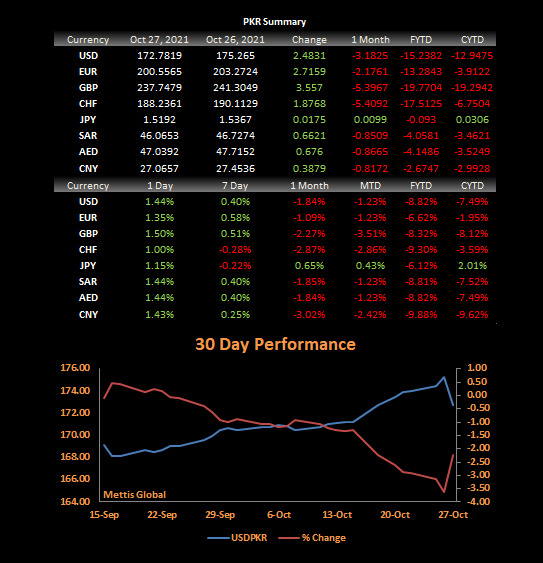 Meanwhile, the currency gained 3.6 rupees against the Pound Sterling as the day's closing quote stood at PKR 237.75 per GBP, while the previous session closed at PKR 241.3 per GBP.
Similarly, PKR's value strengthened by 2.7 rupees against EUR which closed at PKR 200.56 at the interbank today.
On another note, within the money market, the overnight repo rate towards the close of the session was 7.40/7.60 percent, whereas the 1-week rate was 7.40/7.45 percent.
Copyright Mettis Link News
Posted on: 2021-10-27T17:13:12+05:00
27685