September 15, 2021 (MLN): Continuing its slide for the consecutive fifth session, the Pakistani Rupee (PKR) on Wednesday collapsed by 17 paisa to close to a life-time low of 169.12 against US Dollar (USD) in interbank session, crushing investors' confidence and sentiments.
In today's session, the PKR traded at 169.55 to a dollar — the lowest ever against the greenback.
On Tuesday, the home unit had closed to 168.94 per USD.
The rupee traded within a very naroow range of 70 paisa per USD, showing an intraday high bid of 169.60 and an intraday Low offer of 169.00.
Within the Open Market, PKR was traded at 169/170.5 per USD.
"As rupee continues to take the beating & inching up without any respite, we are yet to see the new all time," Asad Rizvi, Former Treasury Head-Chase Manhattan Bank tweeted this morning.
He also noted that widening gap between Inter Bank and Open Market Rate will create serious repercussions including inflationary pressure.
What's more troublesome is the inflation outlook that has deteriorated noticeably. Lately, Shaukat Tareen, Finance Minister also showed concerns over imported inflation mostly across food-related commodities amid falling rupee.
The rupee has been on a downward course since May 2021, with the rising import bill and a widening current account deficit, weighing on the home unit.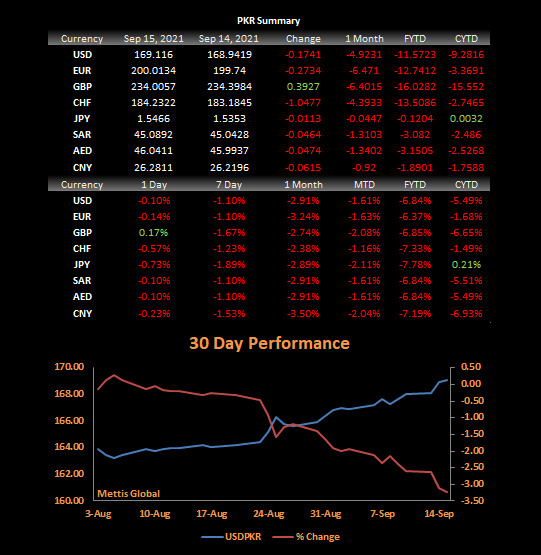 The home unit has depreciated by 6.84% or PKR 11.57 in the fiscal year-to-date against the USD. Similarly, the rupee has weakened by 5.49% or PKR 9.28in CY21, with the month-to-date (MTD) position showing a decline of 1.61%, as per data compiled by Mettis Global.
Alternatively, the currency gained 39 paisa against the Pound Sterling as the day's closing quote stood at PKR 234.01 per GBP, while the previous session closed at PKR 234.4 per GBP.
On the other hand, PKR's value weakened by 27 paisa against EUR which closed at PKR 200.01 at the interbank today.
On another note, within the money market, the overnight repo rate towards close of the session was 7.00/7.10 percent, whereas the 1 week rate was 7.00/7.08 percent.
Copyright Mettis Link News
Posted on: 2021-09-15T16:55:29+05:00
26869