March 28, 2022 (MLN): Continuing its downward journey, Pakistani rupee (PKR) slipped further by 40 paisa against US dollar in today's interbank session while crossing the mark of 182, the currency closed the day's trade at PKR 182.19.
On Friday, the local unit had closed at PKR 181.78 per USD.
The rupee traded in a range of 42 paisa per USD showing an intraday high bid of 182.30 and an intraday low offer of 181.87.
The continuous decline in PKR valuation against USD is primarily due to heated political environment on the domestic front and external payment pressure.
The rising commodity prices have swelled the import bill, expanding the current account deficit which has kept the demand for the dollar elevated.
Meanwhile, a report by Arif Habib Limited noted that foreign investors sold $352mn (net) worth of T-bills and PIBs during March 22 to date, it is the highest monthly selling after Apr'20 ($601mn) which could also pose a threat to PKR.
From July'21 to date, the local unit has lost Rs24.64 against the USD. Similarly, the rupee fell by PKR5.67 in CY22, with the month-to-date (MTD) position showing a decline of 2.59%, as per data compiled by Mettis Global.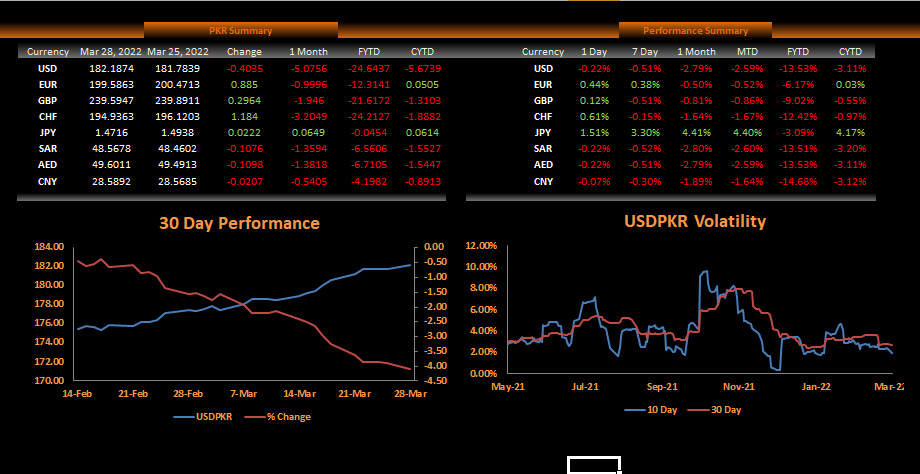 In addition, the performance of PKR remained bleak against major currencies during the month to date as it depreciated by 2.60%, 2.59%, 1.67%, 1.64%, 0.86%, and 0.52% against SAR, AED, CHF, CNY, GBP, and 0.52% respectively. However, the currency has strengthened by 4.40% against JPY.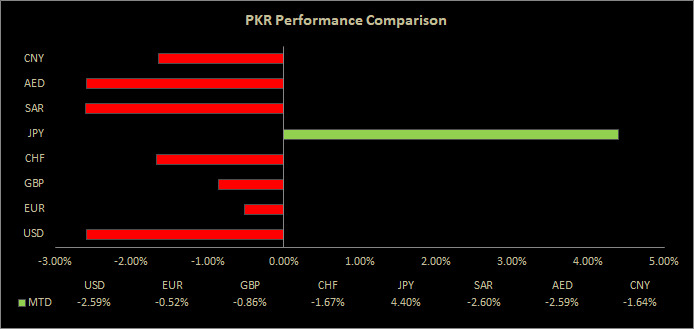 Within the Open Market, PKR was traded at 182/183 per USD.
Alternatively, the currency gained 30 paisa against the Pound Sterling as the day's closing quote stood at PKR 239.59 per GBP, while the previous session closed at PKR 239.89 per GBP.
Similarly, PKR's value strengthened by 89 paisa against EUR which closed at PKR 199.59 at the interbank today.
On another note, within the money market, the State Bank of Pakistan (SBP) conducted an Open Market Operation (OMO) in which it injected Rs199.35 billion into the market for 3 days at 9.77 percent.
The overnight repo rate towards close of the session was 10.30/10.60 percent, whereas the 1-week rate was 10.10/10.20 percent.
Copyright Mettis Link News
Posted on: 2022-03-28T16:35:20+05:00
31705