October 15, 2021 (MLN): Pakistani rupee (PKR) successfully managed to hold ground against the US dollar in today's interbank session, closed the day's trade at PKR 171.18.
The rupee saw a volatility-free session as the very little movement was recorded trading in a range of 15 paisa per USD showing an intraday high bid of 171.30 and an intraday Low offer of 171.15.
The unfavorable macros along with external factors have cast a spell of depression over PKR. The sinking rupee has lost almost 65 paisa during the outgoing week against the greenback, as the previous week was concluded at PKR 170.53 per USD.
Adding more pressure, the weekly data issued by SBP pertaining to foreign exchange reserves also posted a decline of US$ 30.5 million. The total liquid foreign reserves held by the country stood at US$ 25,969.4 million on October 8, 2021.
"PKR is on the back foot due to worsening of current account balance caused by higher import bills that has created the imbalance," Asad Rizvi, the Former Treasury Head at Chase Manhattan said in his early morning tweet.
Within the Open Market, PKR was traded at 171/172 per USD.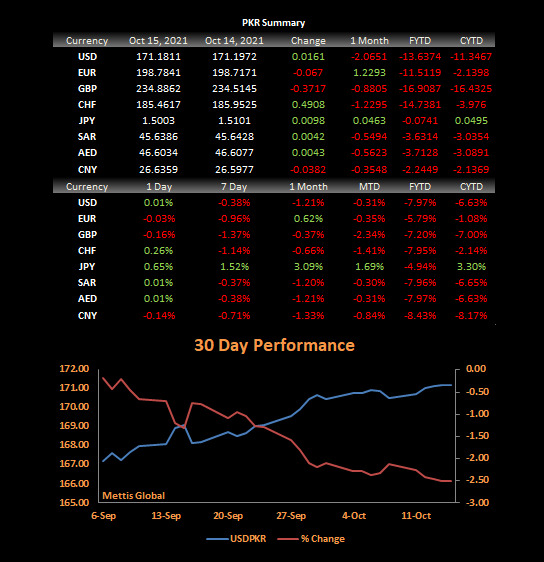 The local unit has depreciated by 7.97% or PKR 13.63 in the fiscal year-to-date against the USD. Similarly, the rupee has weakened by 6.63% or PKR 11.34 in CY21, with the month-to-date (MTD) position showing a decline of 0.31%, as per the data gathered by Mettis Global.
Alternatively, the currency lost 37 paisa to the Pound Sterling as the day's closing quote stood at PKR 234.89 per GBP, while the previous session closed at PKR 234.51 per GBP.
Similarly, PKR's value weakened by 7 paisa against EUR which closed at PKR 198.78 at the interbank today.
On another note, within the money market, the State Bank of Pakistan (SBP) conducted an Open Market Operation in which it injected Rs.2.19 trillion for 7 days at 7.33 percent.
The overnight repo rate towards the close of the session was 7.10/7.25 percent, whereas the 1-week rate was 7.25/7.35 percent.
Copyright Mettis Link News
Posted on: 2021-10-15T16:29:26+05:00
27488