October 25, 2021 (MLN): The mounting external pressure including the inconclusive IMF talks and soaring global energy prices have further dragged the Pakistani rupee (PKR) to its another all-time low as the domestic currency settled the day's trade at PKR 174.43, depreciating by 42 paisa against the greenback.
In the previous session, the local unit closed the trade at PKR 174 per USD.
 "Delay in IMF announcement is not helping. In the absence of SBP, the seasonal tendency of softer PKR has stretched far beyond for too long," Asad Rizvi, the former Treasury Head at Chase Manhattan said.
The rupee traded in a range of 65 paisa per USD showing an intraday high bid of 174.55 and an intraday Low offer of 173.90.
The domestic unit has depreciated by 9.68% or PKR 16.88 in the fiscal year-to-date against the USD. Similarly, the rupee has weakened by 8.37% or PKR 14.59 in CY21, with the month-to-date (MTD) position showing a decline of 2.16%, as per the data gathered by Mettis Global.
Within the Open Market, PKR was traded at 173.30/175.00 per USD.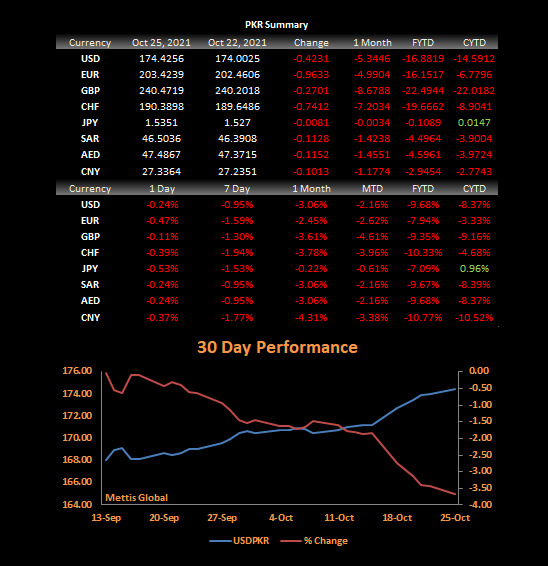 Meanwhile, the currency lost 27 paisa to the Pound Sterling as the day's closing quote stood at PKR 240.47 per GBP, while the previous session closed at PKR 240.2 per GBP.
Similarly, PKR's value weakened by 96 paisa against EUR which closed at PKR 203.42 at the interbank today.
On another note, within the money market, the overnight repo rate towards the close of the session was 7.50/7.70 percent, whereas the 1-week rate was 7.40/7.45 percent.
Copyright Mettis Link News
Posted on: 2021-10-25T16:34:27+05:00
27637