January 20, 2022 (MLN): Pakistani rupee (PKR) continued to make losses against the US dollar in the interbank session as the currency closed the day's trade at PKR 176.49, depreciating by 27 paisa.
On Wednesday, the rupee fell to PKR 176.22 per USD after witnessing a drop of 4 paisa.
Despite witnessing a period of stabilization, the local unit is still under the pressure on rising commodity prices.
The elevated price of crude oil is a cause of worry that will inflate the oil bill, Asad Rizvi, the former Treasury Head at Chase Manhattan said.
Meanwhile, the surging cases of Omicron will not help that could slow down the pace of growth and hurt risk appetite, he added.
The rupee endured a relatively dull trading session with very little intraday movement, trading in a range of 10 paisa per USD showing an intraday high bid of 176.50 and an intraday low offer of 176.06.
Apparently, the first month to date of CY22 proved to be a good month with respect to the performance of PKR as the currency improved by 1.52%, 89%, 88%, 79%, and 46% against JPY, AED, USD, SAR, and CNY, respectively. However, the local unit has lost its value against GBP by 2%.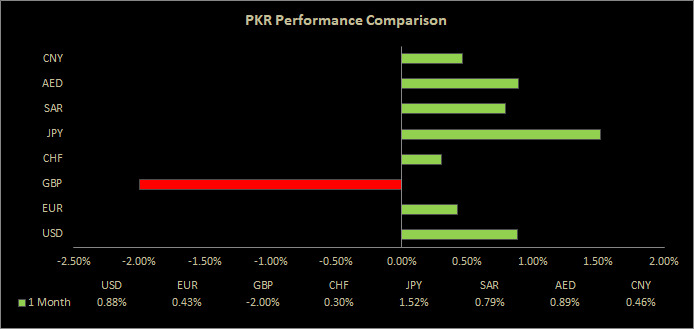 From July'21 to date, the local unit has lost Rs18.94 against the USD. On the other hand, the rupee appreciated by around 2 paisa in CY21, with the month-to-date (MTD) position showing an uptick of 0.01%, as per data compiled by Mettis Global.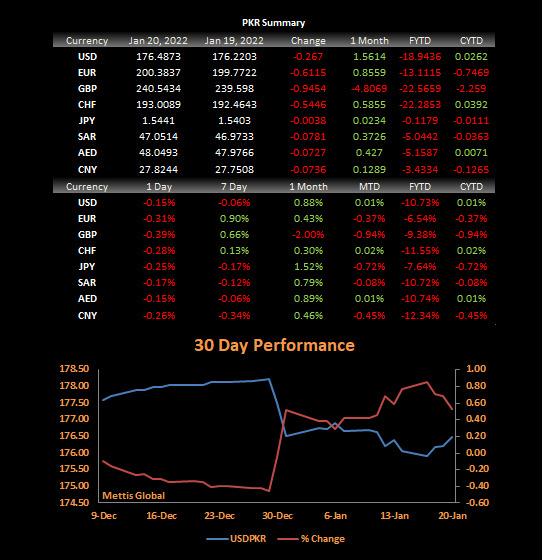 As per the Exchange Companies Association of Pakistan (ECAP), PKR depreciated by 20 paisa for buying and selling over the day closed at 177.50 and 178.50 respectively in the open market.
Meanwhile, the currency lost 95 paisa to the Pound Sterling as the day's closing quote stood at PKR 240.54 per GBP, while the previous session closed at PKR 239.6 per GBP.
Similarly, PKR's value weakened by 61 paisa against EUR which closed at PKR 200.38 at the interbank today.
On another note, within the money market, the overnight repo rate towards close of the session was 8.75/8.85 percent, whereas the 1-week rate was 9.65/9.75 percent.
Copyright Mettis Link News
Posted on: 2022-01-20T15:55:54+05:00
30315