January 05, 2022 (MLN): Pakistani rupee (PKR) managed to hold its position in today's interbank session as the currency closed the trade at PKR 176.74.
The home unit witnessed a relatively dull trading session and the quotes were recorded in a range of only 10 paisa per USD showing an intraday high bid of 176.75 and an intraday low offer of 176.65.
From July'21 to date, the local unit has lost Rs19.19 against the USD. Similarly, the rupee fell by 22 paisa in CY22, while the month-to-date (MTD) position showed a decline of 0.13%, as per data compiled by Mettis Global.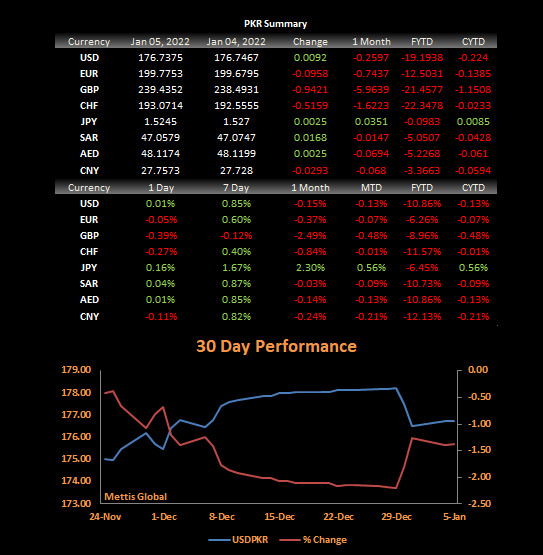 Speaking to Mettis Global, Zafar Paracha said, "PKR will hover around 175-176 in the short term. However, it is clear that the dollar is overvalued and PKR is undervalued, and going forward in the long term PKR will gain more ground if the macroeconomic stability remains intact."
In addition, it is expected that commodity prices in the international market would decline which will obviously ease off the pressure on PKR, he added.
"It seems that rising cases of Covid-19 across the world will soon compel governments to impose lockdown restriction which will give more room to Pakistan to increase its exports," he noted.
As per the Exchange Companies Association of Pakistan (ECAP), the buying and selling rates of PKR remained the same over the day to close at 178 and 179 respectively in the open market.
Alternatively, the currency lost 94 paisa to the Pound Sterling as the day's closing quote stood at PKR 239.44 per GBP, while the previous session closed at PKR 238.49 per GBP.
Similarly, PKR's value weakened by 10 paisa against EUR which closed at PKR 199.78 at the interbank today.
On another note, within the money market, the overnight repo rate towards the close of the session was 10.50/10.60 percent, whereas the 1-week rate was 9.95/10.05 percent.
Copyright Mettis Link News
Posted on: 2022-01-05T16:31:17+05:00
29973