December 20, 2021 (MLN): Pakistani rupee (PKR) managed to hold its ground against the US dollar during the first session of the week as the currency closed the trade at PKR 178.04.
Continuing the efforts to enhance documentation and transparency in the foreign exchange regulatory regime, the State Bank of Pakistan (SBP) has fixed the limit of individual purchase of foreign exchange which shall not be more than $10,000 per day and $100,000 per year or equivalent in other currencies per calendar year, in the form of cash or outward remittances.
The aforestated amendment in regulation is a move towards documentation, Asad Rizvi, the former Treasury Head at Chase Manhattan said.
"Further tightening of noose meets the demand of external actor. It will help to restrict the outflow of PKR to some extent. Only narrowing the trade gap will help the local unit to stabilize," he added.
The rupee traded within a narrow range of 20 paisa per USD observing an intraday high bid of 178.10 and an intraday low offer of 177.90.
From July'21 to date, the local unit has lost Rs20.49 against the USD. Similarly, the rupee fell by PKR18.20 in CY21, with the month-to-date (MTD) position showing a decline of 1.30%, as per data compiled by Mettis Global.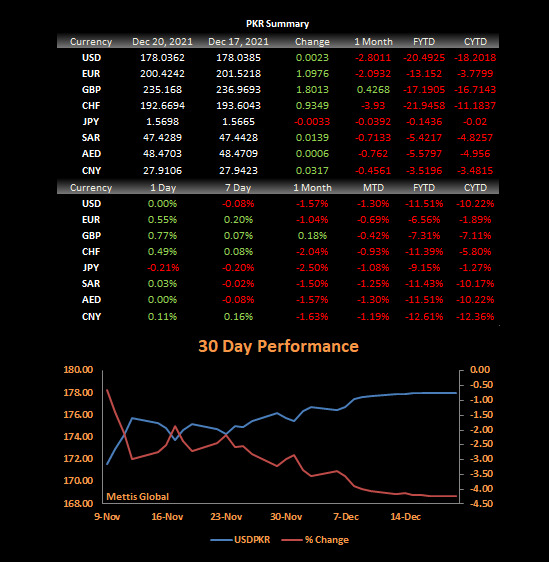 Within the Open Market, PKR was traded at 178.05/178.10 per USD.
Meanwhile, the currency gained 1.8 rupees against the Pound Sterling as the day's closing quote stood at PKR 235.17 per GBP, while the previous session closed at PKR 236.97 per GBP.
Similarly, PKR's value strengthened by 1.1 rupees against EUR which closed at PKR 200.42 at the interbank today.
On another note, within the money market, the overnight repo rate towards the close of the session was 9.25/9.30 percent, whereas the 1-week rate was 9.85/9.95 percent.
Copyright Mettis Link News
Posted on: 2021-12-20T16:54:15+05:00
29670