December 14, 2021 (MLN): The sliding Pakistani rupee (PKR) managed to hold its ground against the greenback as the currency closed today's trading session relatively unchanged at PKR 177.88.
The rupee endured a narrow trading session with quotes being recorded in a range of 35 paisa per USD showing an intraday high bid of 178.20 and an intraday low offer of 177.85.
A massive current account deficit and insufficient foreign exchange reserves have been suppressing the local unit which also contributed enough to surging inflation. Resultantly, the State Bank of Pakistan (SBP) has been under pressure to deliver another hike. It is pertinent to mention that PKR has lost Rs2.5 against USD since the last MPC.
"In today's monetary policy, SBP will increase its inflation target from 7-9% to double-digit. In November there was plenty of room for upward adjustment, but SBP knowingly did not act to calm the sentiment," Asad Rizvi, the Former Treasury Head at Chase Manhattan said today.
However, a 75-100bps hike may not be enough to meet IMF demand, he added.
Regarding the outlook of the local currency, the survey conducted by Mettis Global Pvt Limited revealed that 66% of the market participants expect the exchange rate to remain between 180-185 by FY22 given the present economic scenario.
The local unit has depreciated by 11.43% or PKR 20.33 in the fiscal year-to-date against the USD. Similarly, the rupee has weakened by 10.15% or PKR 18.04 in CY21, with the month-to-date (MTD) position showing a decline of 1.22%, as per data compiled by Mettis Global.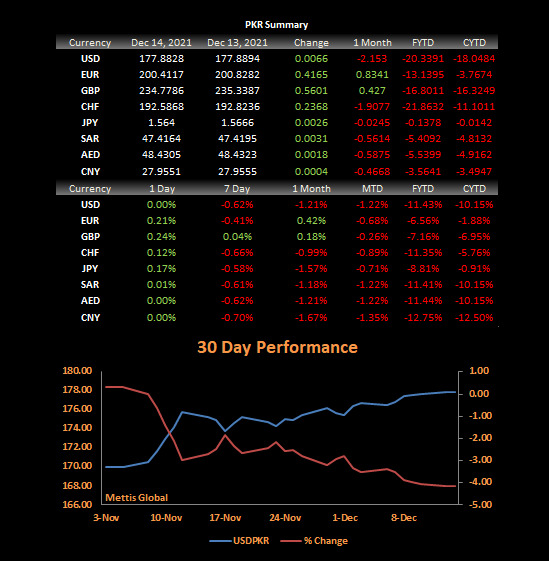 Meanwhile, the currency gained 56 paisa against the Pound Sterling as the day's closing quote stood at PKR 234.78 per GBP, while the previous session closed at PKR 235.34 per GBP.
Similarly, PKR's value strengthened by 42 paisa against EUR which closed at PKR 200.41 at the interbank today.
As per the Exchange Companies Association of Pakistan (ECAP), PKR lost 20 paisa for buying and 50 paisa for selling over the day closed at 179.80 and 180.50 respectively in the open market.
On another note, within the money market, the overnight repo rate towards close of the session was 9.70/9.75 percent, whereas the 1 week rate was 9.55/9.65 percent.
Copyright Mettis Link News
Posted on: 2021-12-14T16:21:26+05:00
29568