December 01, 2021 (MLN): Owing to the positive triggers including the higher revenue collection, dropping oil prices, and a historic jump of $2.9billion in exports, the Pakistani rupee (PKR) recovered by 24 paisa against the US dollar in the interbank session as the currency closed the day's trade at 175.48.
To note, the local unit had gained 48 paisa yesterday on the back of a deposit agreement worth $3billion signed between Saudi Fund for Development (SFD), and the State Bank of Pakistan (SBP), to settle the trade at PKR 175.72.
"Market received mixed data with conflicting economic signals. Inflation surged to 11.5% supporting further hike, but it may not surpass 10% by end of FY22," Asad Rizvi, the former Treasury Head at Chase Manhattan said.
A couple of good news were also there as tax collection jumped to Rs 2.31tr or 37% higher and falling oil prices that should support the domestic unit, he added.
The rupee traded in a range of 70 paisa per USD showing an intraday high bid of 175.80 and an intraday Low offer of 175.10.
Within the Open Market, PKR was traded at 175.50/177.70 per USD.
The domestic unit has depreciated by 10.22% or PKR 17.93 in the fiscal year-to-date against the USD. Similarly, the rupee has weakened by 8.91% or PKR 15.64 in CY21, with the month-to-date (MTD) position showing a decline of 0.14%, as per the data compiled by Mettis Global.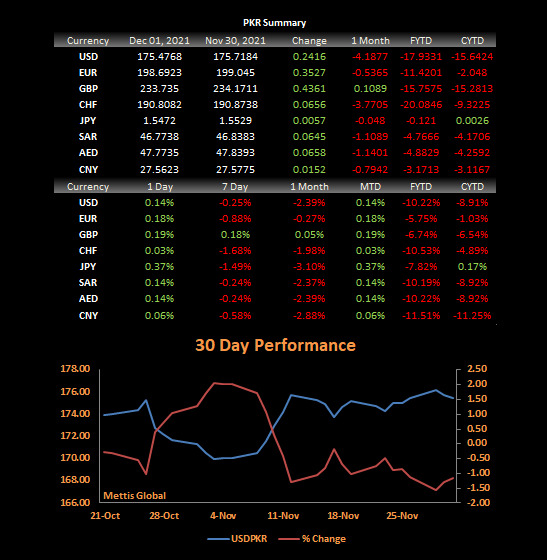 Meanwhile, the currency gained 44 paisa against the Pound Sterling as the day's closing quote stood at PKR 233.74 per GBP, while the previous session closed at PKR 234.17 per GBP.
Similarly, PKR's value strengthened by 35 paisa against EUR which closed at PKR 198.69 at the interbank today.
On another note, within the money market, the overnight repo rate towards the close of the session was 9.00/9.25 percent, whereas the 1-week rate was 8.85/8.95 percent.
Copyright Mettis Link News
Posted on: 2021-12-01T16:37:01+05:00
29359