November 12, 2021 (MLN): Pakistani rupee (PKR) registered a new low against the US dollar as the currency closed the day's trade at PKR 175.73, depreciating by 1.5 rupees while breaking a previous low of PKR175.265 on October 26, 2021.
In the previous session, PKR managed to set the trade at 174.19 per USD.
The rupee endured a volatile trading session with quotes being recorded in a range of 1.97 rupees per USD showing an intraday high bid of 176 and an intraday Low offer of 174.03.
During the week, the currency has lost 5.7 rupees against the greenback, as the previous week was concluded at PKR 170.01 per USD. After PKR pared some of its losses in the previous week on the back of the news of financial assistance offered by Saudi Arabia $4.2 billion, it came under severe pressure due to the delay in the resumption of the $6 billion International Monetary Fund (IMF) program.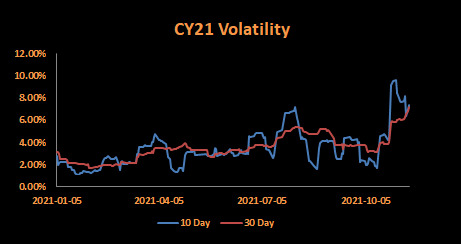 The traders are keenly looking for a conclusive note from Government and International Monetary Fund (IMF) talks.
In addition, the spell of depreciation is mainly encouraged by the widening the trade gap on the back of higher import bill on rising commodity prices.
Moreover, the statement pertaining to further depreciation of home currency ahead by the Finance Minister wrecked the traders' confidence and created the push factor for speculators while speaking to Mettis Global, Zafar Paracha, Former Secretary-General of Exchange Companies Association of Pakistan, lately.
Within the Open Market, PKR was traded at 176.50/178.50 per USD.
As per the data compiled by Mettis Global, the local unit has depreciated by 10.35% or PKR 18.18 in the fiscal year-to-date against the USD. Similarly, the rupee has weakened by 9.05% or PKR 15.89 in CY21, with the month-to-date (MTD) position showing a decline of 2.32%.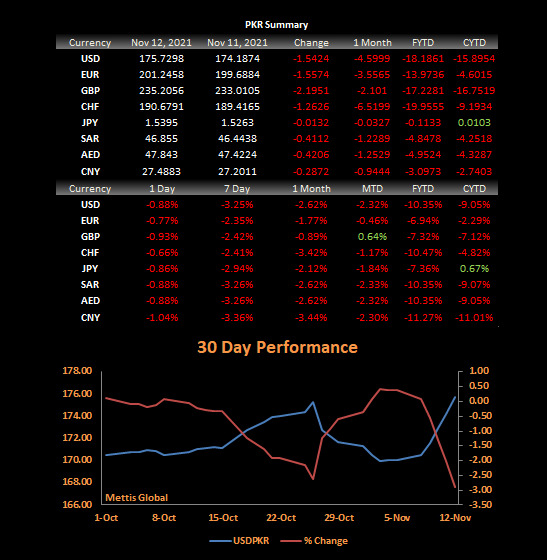 Meanwhile, the currency lost 2.2 rupees to the Pound Sterling as the day's closing quote stood at PKR 235.21 per GBP, while the previous session closed at PKR 233.01 per GBP.
Similarly, PKR's value weakened by 1.6 rupees against EUR which closed at PKR 201.25 at the interbank today.
On another note, within the money market, the State Bank of Pakistan (SBP) conducted an Open Market Operation in which it injected Rs.1.95 trillion for 7 days at 7.38 percent.
The overnight repo rate towards the close of the session was 7.40/7.50 percent, whereas the 1-week rate was 7.40/7.45 percent.
Copyright Mettis Link News
Posted on: 2021-11-12T16:30:11+05:00
28069