December 03, 2021 (MLN):  The downward slide of Pakistani rupee (PKR) continued on the second consecutive day against greenback as the currency closed the week at PKR 176.77 per USD, slide by 35 paisa.
During the outgoing week, the currency has lost 1.3 rupees against the greenback, as the previous week was concluded at PKR 175.46 per USD.
The depleting foreign exchange reserves and widening current account deficit owing to the record high import bill have pushed PKR in a bleak phase of depreciation once again.
Foreign exchange reserves held by the country declined by 1.21% or $275 million to stand at $22.50 billion during the week ended on November 26, 2021.
The depleting forex reserves would hardly cover the soaring merchandise import bill for around three months if it continues to report the same for the next months. It is pertinent to note that the country witnessed an all-time high import of $7.847bn in November 2021.
Meanwhile, the delay of funds under Saudi Fund for Development (SFD) has also added enough pressure on the domestic unit. Under this deposit agreement, SFD shall place a deposit of $3 billion with SBP. The deposit amount under the agreement shall become part of SBP's Foreign Exchange Reserves.
"Saudi Arabia will deposit $3 billion in Pakistan's foreign reserves in a week or so for one year at 4% interest under a support package signed on Monday," Pakistan's finance ministry spokesman said on Tuesday.
The rupee traded in a range of 25 paisa per USD showing an intraday high bid of 177.20 and an intraday low offer of 176.95.
As per the Exchange Companies Association of Pakistan, PKR lost 1.5 rupee for buying and selling over the day closed at 179 and 179.50 respectively in the open market.
The local unit has depreciated by 10.88% or PKR 19.22 in the fiscal year-to-date against the USD. Similarly, the rupee has weakened by 9.58% or PKR 16.93 in CY21, with the month-to-date (MTD) position showing a decline of 0.59%, as per data compiled by Mettis Global.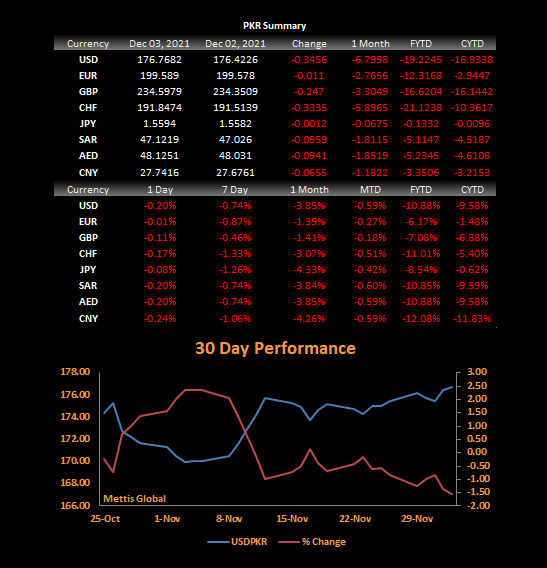 Meanwhile, the currency lost 25 paisa to the Pound Sterling as the day's closing quote stood at PKR 234.6 per GBP, while the previous session closed at PKR 234.35 per GBP.
Similarly, PKR's value weakened by 1 paisa against EUR which closed at PKR 199.59 at the interbank today.
On another note, within the money market, the State Bank of Pakistan (SBP) conducted an Open Market Operation in which it injected Rs.1.43 trillion for 7 days at 8.95 percent.
The overnight repo rate towards close of the session was 9.00/9.20 percent, whereas the 1 week rate was 8.75/8.85 percent.
Copyright Mettis Link News
Posted on: 2021-12-03T17:03:57+05:00
29402