August 04, 2022 (MLN): Bolstered by the statement of IMF's Resident regarding the completion of all prior actions for loan review and improved macros, the Pakistani rupee (PKR) continues to gain ground in the interbank market. On Thursday, the local unit has so far appreciated by 8.8 rupees in early trade against the US Dollar (USD) in the interbank with trades being reported at 220 per USD.
The rupee was quoted at 221.94/226.44 [9:43 PST] when compared to the previous close of 228.8 per USD. The local unit witnessed a  massive appreciation of 9.8 rupees on Wednesday due to higher export proceeds.
Yesterday's strong comeback of the rupee reflects an improvement in liquidity in the interbank market on the back of higher export proceeds, said Fahad Rauf, Head of Research at Ismail Iqbal Securities while talking to Mettis Global.
While Wajid Rizvi, Head of Research at Intermarket Securities was also of the view that the recent IMF statement has played a major role in wearing off pressure from the local unit.
To note,  Dr. Esther Perez Ruiz, IMF's Resident Representative for Pakistan on Wednesday said, "Pakistan has completed all prior actions for loan review."
"The country has met its last prior action of the IMF for the combined 7th and 8th review after increasing the petroleum development levy (PDL)."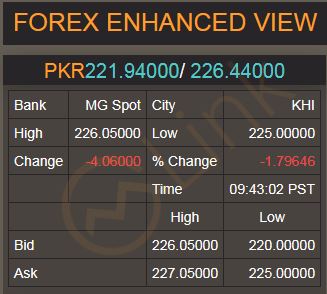 Posted on: 2022-08-04T09:44:30+05:00
34449